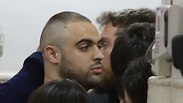 Ben Deri
Photo: Amit Shabi
Border Policeman gets 9 months in prison for death of Palestinian teen
Ben Deri, who was convicted of negligent homicide after shooting dead 17-year-old Nadim Nuwara during Nakba Day clashes in Beitunia four years ago, gets prison time, ordered to pay NIS 50,000 in compensation to family under plea deal.
Border Policeman Ben Deri, who was convicted of the negligent homicide of 17-year-old Nadim Nuwara during Nakba Day clashes in Beitunia four years ago, was sentenced to nine months in prison on Wednesday.

The Jerusalem District Court also handed Deri an additional six-month suspended sentence and ordered to pay the Palestinian teen's family NIS 50,000 in compensation.

Because the sentence includes time served, Deri will only have to spend seven months in prison.

Prosecutors had originally filed full manslaughter charges against Deri, accusing him of deliberately switching his rubber bullets for the live round. The amended indictment, agreed to by Deri and approved by Jerusalem District Court as part of a plea deal, described the switch as accidental.

Negligent manslaughter carries a maximum three-year jail term in Israel. Manslaughter, by contrast, carries a maximum 20-year sentence as that charge can apply to deliberate killings where there is no clear evidence of premeditation.

Deri was convicted of aggravate injury after the court determined that he had aimed what he thought was a rubber bullet at Nuwara's chest at Beitunia on May 15, 2014.

A second teenage protester was killed in the Beitunia incident but Israel did not pursue charges in that case, citing lack of evidence as an autopsy was not carried out.

The court statement on Wednesday said the shooting took place after the stone-throwing by the protesters had ceased. "Contrary to regulations, and despite the fact that the deceased posed no threat to the (Israeli) unit, the defendant aimed his weapon at the torso of the deceased and fired at the deceased with the intent of injuring him."

The deaths stoked Palestinian fury at Israel in the weeks after US-sponsored peace talks collapsed in April.

The shooting (בצלם )

During the sentencing hearings, Nuwara's father Issam pleaded with Judge Daniel Teferberg to sentence Deri to a tougher punishment.

"After Nadim, many others were killed or murdered, and their trial ended very fast. If Nadim had been the one to have killed Ben Deri, and if he had negligently killed him, would the court have treated Nadim the same way it has been treating Deri?" the father wondered.

"I lost my son, and I turned to the law... but I was surprised that after all of the evidence we submitted, the decision in the end was to convict of negligent homicide, and this caused a lot of problems for us. I'm asking that justice is served just once. At the end of the day, this is about killing innocent children," Issam continued.

"I never expected the Israeli court to do justice for my martyred son, but I had to do all I can to present a solid case and to expose the Israeli judicial system before the world, and I did," he went on to say.

Deri's attorney, Zion Amir, said following the sentencing that he was happy his client was cleared of the manslaughter charge, but he came out against the fact soldiers are prosecuted in such circumstances.

Reuters contributed to this report.