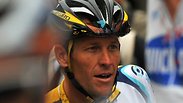 Lance Armstrong
Photo: AFP
Lance Armstrong to visit Israel for Giro d'Italia
Legendary cyclist announces impending visit to Israel to take in 2018 Giro d'Italia bicycle race, whose Israeli leg will begin in Jerusalem May 4; Armstrong was not invited in any official capacity, and will not compete due to his lifetime ban for doping, but will apparently cover the race live for his podcast.
The prestigious 2018 Giro d'Italia bicycle race, set to kick off in Israel next month, will be attended by legendary cyclist Lance Armstrong.

The race, the world's second most important after the vaunted Tour de France, will begin in Jerusalem May 4. After three days of competitive cycling around Israel, cyclists will continue the race in Italy until its conclusion May 21.

Armstrong announced his visit to Israel and patronage of the race on his weekly podcast last week. "I was asked whether I intended to take part in the event, and the answer is yes. The opportunity to come to Israel and take part in such an iconic event is simply insane," he explained.

An initial inquiry by Yedioth Ahronoth, however, turned up the seven-time Tour de France winner was not invited to the race by any official entity, including the Giro's Israeli organizers, the Tourism Ministry or the Jerusalem municipality.

It appears, then, that Armstrong will visit Israel privately to cover the race live for his podcast.

Despite not actually riding, Armstrong's visit has aroused much interest as his own history is fascinating. While he has won the world's preeminent bicycle race a record seven consecutive times, all of his wins were voided as punishment for doping offenses. He was also suspended for life from competitive riding.

Since his lifetime ban, Armstrong has become something of a polarizing figure. On the one hand he was caught doping, but on the other he has demonstrated physical and mental aptitude that could possibly described as inhuman.

Moreover, Armstrong was diagnosed with a violent strain of cancer during his riding career. In a book he later wrote about the period, the athlete said a doctor said he had no chance of surviving the disease.

He did not give up, however, and not only beat cancer but resumed training and then competing in the sport's highest levels, winning the Tour de France—considered one of sport's most punishing and demanding competitions—multiple times in the process.

This will not be Armstrong's first visit to Israel, as he visited Gaza border communities in late 2016. Armstrong toured the Gaza border region, where he met with the IDF's Gaza Division commander, Brig.-Gen. Yehuda Fox, and even stepped inside one of the Hamas tunnels in Israeli territory that were uncovered during Operation Protective Edge.