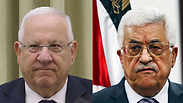 Presidents Rivlin and Abbas
Photo: Alex Kolomoisky and EPA
Rivlin: Abbas's Holocaust comments show he's 'no peace partner'
Speaking during banquet in Ethiopia, President Rivlin says 'it's about time the world listens' to President Abbas's remarks blaming Jews for Nazi persecution and denying a Jewish connection to Israel; 'there is no negotiating with anti-Semites.'
President Reuven Rivlin questioned Wednesday how Palestinian Authority President Mahmoud Abbas could be considered a legitimate peace partner in light of recent anti-Semitic comments he made suggesting that Jewish behavior brought about Nazi persecution.

"How can a leader who expresses such dark anti-Semitic ideas present himself as a partner in peace?" Rivlin asked during a state visit to Ethiopia.

"It wasn't us who said these things. He chose to say them in his own voice and the time has come for all countries of the world to listen, to listen to what was said," Rivlin said.

"I must take this opportunity to address Abbas's shocking statements over the last few days. Anti-Semitism doesn't create a 'dialogue', there is no negotiating with anti-Semites. The State of Israel will always seek peace with its neighbors, but it will never accept those who do not recognize its rights to exist," the president declared.


In his speech Monday, the Palestinian leader repeated conspiracy theories about the Jews' origins and their ties to the land of Israel.

"The Jewish question that was widespread throughout Europe was not against their religion, but against their social function, which relates to usury and banking and such," Abbas said on Monday.

He claimed Nazi leader Adolf Hitler offered the Jews money incentives to emigrate out of Europe to Palestine, including the option of taking all of their assets with them and selling their real state in the continent.

"He (Hitler) wanted the Jewish homeland (in Palestine) to be supportive of him," the Palestinian leader said.

Abbas also spoke about the roots of European Jewry, quoting a historian called Arthur Koestler who wrote about a "13th tribe" of Israel in the "Khazar Kingdom"—a theory that has been dismissed by other Jewish historians.

The Khazar Kingdom, Abbas said, eventually collapsed and its subjects spread throughout Europe. Those subjects, Abbas asserted, are the Ashkenazi Jews.

"They have no relationship to Semitic culture, Abraham, Jacob and others," Abbas claimed.

He also compared the treatment of European Jews to that of Jews who lived in Arab nations, saying the latter never suffered from persecution in the 1,400 years they lived there.

The European Union's foreign service also condemned Abbas's "unacceptable" remarks, echoing criticism on Wednesday by Prime Minister Benjamin Netanyahu.

US officials also condemned on Tuesday night Abbas's speech at the Palestinian National Council (PNC) conference in Ramallah.

Itamar Eichner, Shahar Hay and Reuters contributed to this report.