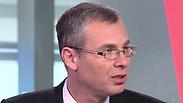 Tourism Minister Yariv Levin
Photo: Avi Chai
Tourism minister calls on Israelis not to visit Turkey
Minister Yariv Levin says Israelis should avoid visiting Turkey following Ambassador Eitan Na'eh's humiliating frisk at Istanbul Atatürk Airport; Interior Minister Deri: Erdoğan leading 'wave of insane extremism'; Israel-Turkey relations continue deteriorating as Turkey's Erdoğan slams Israel for 'perpetrating genocide,' says Israel's Netanyahu 'has blood on his hands.'
Amid Israel's severe crisis with Turkey, which resulted in its ambassador Eitan Na'eh being expelled from the country Wednesday, Tourism Minister Yariv Levin called on Israelis not to visit Turkey.

In an Ynet interview Thursday, Lavin said, "I advise not to visit Turkey, and I would have said the same even prior to recent events."

Israel's ambassador expelled from Turkey

"As long as Turkey treats us like it did, there is no reason to fly there," he added.

"Israel has no interest in severing trade relations with Turkey. However, visiting it benefits the Turks financially and I don't think we should insist on flying there," the tourism minister explained.

Levin also slammed Turkey's President Recep Tayyip Erdoğan, saying he is a leader that repeatedly exploits Israel to make headlines for himself as an attempt to raise support before upcoming elections in Turkey.

"I wouldn't rule out Erdoğan's actions were related to the elections in Turkey," Levin went on to say.

"I think Israel and Turkey's relations are based on mutual interests. As long as Erdoğan (is in power), relations (between the two countries) will not go back to what they once were. I definitely think the last word hasn't been said here," Levin elucidated.

"Maybe when the Erdoğan era ends, we'll witness a different kind of leadership that will place Turkey's interests first," he stated.

Asked whether security alerts cautioning Israelis against visiting Turkey existed, Minister Levin responded, "A fear of terror attacks exists all over the world.

"Everywhere in the world today there is a fear of terror attacks and of attempted anti-Semitic attacks, and there are anti-Israeli elements trying to execute terror attacks against Israeli groups."

Speaking on the matter in a studio interview of his own, Interior Minister Aryeh Deri said, "We've recognized years ago Erdoğan is leading a wave of insane extremism. We've tried reaching understandings (with Turkey), including signing a reconciliation agreement that made us nauseous."

"We had weighed in all of Israel's strategic considerations and came to the conclusion we had to sign," Deri explained.

Deri added that Israel is not in a rush to sever ties, particularly when economic and other relations are involved.

The crisis's exacerbation between the two countries—amid the death of dozens of Palestinians on the Gaza border fence caused by IDF's fire—commenced with Israel's Ambassador to Turkey Eitan Na'eh's humiliation at an Istanbul airport by Turkish authorities.

"They didn't humiliate only me, but also the State of Israel—and the order came from above," the ambassador said in closed conversations.

In an unprecedented move, Turkish media crews were called in advance to prepare for the entrance of a foreign diplomat sent to their country.

They eagerly waited for him to walk into the Istanbul Atatürk Airport and go through a humiliating security inspection on his way back to his country.

And so, before media crews, Na'eh and his wife had to go through an individual, invasive and embarrassing security check.

After word about the humiliating incident had gotten out in Jerusalem, the Israeli Foreign Affairs Minister summoned the Turkish mission's senior diplomat in Israel, Umut Deniz—who was left in charge of the mission after Turkey's ambassador Kemal Ökem was recalled to Turkey at the beginning of the week—for a reprimand.

Upon his arrival at the Foreign Affairs Ministry, Deniz was asked to present his identification at the entrance—Israel's response to the humiliation of Na'eh.

In a talk with the Director of the European Department in the Ministry of Foreign Affairs, Iris Ambor, Deniz was reprimanded for "the intolerable treatment suffered by the Israeli ambassador."

The Israeli Foreign Affairs Ministry argued the incident at Istanbul Atatürk Airport was "a blatant violation of the diplomatic code," and severely slammed the Turks.

Ankara's officials rejected Israel's accusations of deliberate humiliation. "The ambassador went through a strict security inspection since he had not been wearing a suit and had not come from the airport's VIP area," according to the officials.

Relations between the two countries quickly deteriorated to mutual verbal attacks between their leaders.

Turkey's Erdoğan said Wednesday Israel was behaving thuggishly and stressed that his country "won't allow Israel to steal Jerusalem from the Palestinians.

"Turkey will continue standing by the Palestinians as long as it takes. If the world continues to give its consent to Israel's actions, it would lead to uncontrollable chaos dominated by thuggery," Erdoğan assured.

During a state diner in Ankara, Erdoğan said that his country was trying to make the UN Security Council's members "more active" regarding the Gaza border fence riots.

Erdoğan also called Israel a "terror country," and said, "The aggression against the demonstrators in Gaza reveals Israel's ugly face."

"Israel is perpetrating genocide in Gaza," Turkey's president lashed out.

Prime Minister Benjamin Netanyahu was also slammed by Erdoğan, who said the Israeli premier had "blood on his hands."

Netanyahu responded, "A man who sends thousands of Turkish troops to conquer northern Cyprus and invades Syria, will not lecture us when we are trying to defend ourselves from Hamas's invasion attempts."

"Erdoğan is among Hamas's biggest supporters and there is no doubt that he well understands terrorism and slaughter. I suggest that he not preach morality to us," Netanyahu tweeted.

Netanyahu's son, Yair Netanyahu, posted Wednesday on his Instagram page, "F**k Turkey."