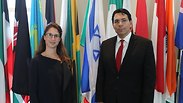 Knoll's granddaughter Keren Brosh (L) and Israel's Ambassador Danon
Photo: Israel's delegation to the UN
Slain Holocaust survivor's granddaughter speaks at UN
Keren Brosh, granddaughter of Mireille Knoll, who was brutally murdered in an anti-Semitic hate crime in Paris two months ago, invited to speak at UN by Israel's Ambassador Danon; Brosh recounted her grandmother's story, urged assembled diplomats, ambassadors to act against anti-Semitism: 'People must feel safe walking down street.'
The granddaughter of Holocaust survivor Mireille Knoll, who was murdered in an anti-Semitic hate crime in Paris two months ago, spoke at the United Nations (UN) Thursday in an event organized by Israel's ambassador to the international organization Danny Danon.

Knoll, 85 at the time of her passing, was stabbed 11 times in her home in the French capital, which was later torched by her killers. Her murder shocked France, and led to tens of thousands of people marching in her memory days later. Knoll's funeral was also attended by the country's president Emmanuel Macron.

The special event—organized by the Israeli delegation and concerning the fight against anti-Semitism—took place at the UN's headquarters in New York City, and was attended by many diplomats and ambassadors from around the world as well as keynote speaker Keren Brosh, Knoll's granddaughter.

Brosh, who up until recently served as a captain in the army's Military Intelligence Directorate, recounted her grandmother's story and said, "I feel today it is my duty to stand before you and urge you to wake up! The world is changing, and people must feel safe walking down the street."

"I'm proud being my grandmother's granddaughter and proud to be Jewish," she exclaimed. "My pride reached its zenith when 30,000 people came to bid my grandmother farewell at her funeral, and grew when I marched clad in the IDF's uniforms alongside the president of Israel in the 'March of the Living' from Auschwitz to Birkenau."

The Paris protest in Knoll's memory (צילום: רויטרס)

"Now I'm asking you," she turned in an appeal to the assembled crowd, "to carry on marching alongside me."

Israel's Ambassador to the UN Danon spoke at the event as well, saying, "All of Israel's people embrace and lend strength to your family and feel the pain of your grandmother's shocking death."

"The appalling murder of Mireille, who survived the horrors of the Holocaust, has once again proven to the world that the fight against anti-Semitism is far from over," Danon declared. "Her heart-rending death should be a wakeup call for the international community to stridently and decisively act out against the blight of hatred."

Parisian police arrested two suspects for Knoll's murder. The two were charged with premeditated murder relating to "the victim's religion, real or imagined," a judicial source told the AFP French news agency. They were also charged with violent robbery and destruction of property.

As a child, Knoll narrowly escaped being deported to Auschwitz during World War Two, when 13,000 Jews were rounded up in July 1942 at the Vélodrome d'Hiver in Paris.

She continued residing in Paris after the war and the Holocaust, and married a fellow Holocaust survivor who passed away in the early 2000s.