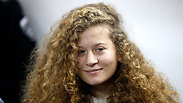 Parole board rejects Tamimi request for early release
Board cites Ahed Tamimi's 'lack of regret, the severity of the offenses and an assessment of the danger she poses' as reasons not to cut her sentence by a third; the Palestinian teen provocateur was jailed for 8 months for assaulting an IDF officer and soldier.
The Israel Prison Service's parole board on Wednesday rejected a request by Palestinian teen provocateur Ahed Tamimi, who is serving eight months in prison for the assault of an IDF officer and soldier, to cut a third of her sentence.

In explaining its decision, the board cited a "lack of regret, the severity of the offenses and an assessment of the danger she poses."

Ahed Tamimi, 17, and her cousin Nur Tamimi, 21, were filmed hitting a company commander and a soldier during clashes between Palestinians and IDF forces in the village of Nabi Salih in the central West Bank.

The original footage of Tamimi slapping the soldier

Ahed Tamimi, incarcerated since December 19, was charged with assaulting the officer and soldier, attacking members of the security forces in five other incidents, stone throwing, participation in clashes, threats and incitement. Her cousin Nur was charged with aggravated assault of a soldier.

As part of a plea deal, Tamimi pled guilty to four of the charges in the indictment: the assault on the officer caught on film, incitement and two prior instances of disrupting IDF soldiers.

She was sentenced to eight months in prison and ordered to pay a NIS 5,000 fine.

A Shin Bet assessment of the danger she poses noted that "the comments she made on the matter show the radical ideology she holds. That, combined with the current security situation, present an indication of the potential danger she may pose if released early."

The state opposed Tamimi's early release, stressing she continues posing a threat and has shown no remorse for her actions. Furthermore, Tamimi has not undergone any treatment while in prison. The state also submitted classified documents to the court related to "negative activity" during her incarceration.

Tamimi's attorneys, meanwhile, tried to justify her actions and argued she should not suffer because of the volatile situation on the Gaza border.

"We cannot ignore the Shin Bet's assessment, the severity of the offenses attributed to the prisoner and mostly the circumstances and the insistence of the prisoner that she would continue acting as she did and does not regret her actions. It is for those reasons that she continues posing a danger," the board wrote.