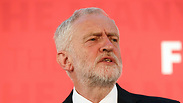 UK Jewish leader urges apology over Labour anti-Semitism
Board of Deputies of British Jews President Marie van der Zyl slams Corbyn's 'half-hearted' apology this week for 'concerns and anxiety' caused before he became Labour's leader; 'Jeremy Corbyn needs to stop hiding & make an abject apology to UK Jews in his own voice.'
LONDON - The president of one of the UK's main Jewish groups called Thursday on the leader of the Labour Party to make an "abject apology" to British Jews for allowing anti-Semitism to fester in the left-of-center opposition party.

Allegations of anti-Jewish prejudice within Labour have grown since veteran socialist Jeremy Corbyn was elected leader in 2015. Some in the party allege that Corbyn, a longtime critic of Israel's treatment of Palestinians, has allowed anti-Semitic abuse to go unchecked.

Corbyn apologized this week for the "concerns and anxiety" caused before he became Labour's leader when, as a pro-Palestinian activist, he shared platforms with people "whose views I completely reject."

But Board of Deputies of British Jews President Marie van der Zyl tweeted that Corbyn was "hiding behind a half-hearted 'apology' no doubt crafted by his spin-doctors."

"Jeremy Corbyn needs to stop hiding & make an abject apology to UK Jews in his own voice," she wrote.

The long-simmering dispute inside Labour recently boiled over after the party proposed adopting a definition of anti-Semitism that differed from the one approved by the International Holocaust Remembrance Alliance.

The alliance says it is anti-Semitic to accuse Jewish people of being more loyal to Israel than to their home countries, an example omitted from Labour's definition. The alliance also says it is anti-Semitic to compare contemporary Israeli policies to the policies of the Nazis, a view Labour did not endorse.

Corbyn also has received personal criticism for his past appearances alongside alleged anti-Semites and for some of his statements, including a 2010 speech in which he compared Israel's blockade of Gaza to Nazi Germany's sieges of Leningrad and Stalingrad during World War II.

Labour's leadership is facing pressure to expel Peter Willsman, a party official who accused Jewish "Trump fanatics" of stirring up controversy around anti-Semitism.