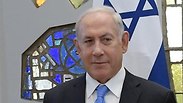 Prime Minister Benjamin Netanyahu
Photo: GPO/Amos Ben Gershom
Netanyahu: 'Funds to Iran are like poison pills'
At Baltic States summit PM slams European Union's decision to transfer €18 million to the Islamic Republic; says 'transferring funds to this regime at this time is a big mistake, the money will be used for missiles and will go to the Revolutionary Guards.'
Prime Minister Benjamin Netanyahu criticized Friday the European Union's decision to transfer €18 million to Iran at the Baltic States summit saying, "It is like a poisonous pill to the Iranian people and to the efforts to curb Iranian aggression in the region and beyond the region."

The EU announced Friday that it had donated €18 million ($21 million) to Iran to help it deal with the effects of US sanctions. The €18 million aid is part of a $50 million aid package that will be granted to the private sector in Iran.

Netanyahu at Baltic States summit's press conference (צילום: לע"מ)

Netanyahu added that "'Transferring funds to this regime at this time is a big mistake, and we must stop it. where will all the extra money go? they will not use it for solving Iran's water problem, it will not help the Iranian truck drivers. No, the money will be used for missiles and will go to the Revolutionary Guards in Iran, Syria and elsewhere in the Middle East."

US President Donald Trump withdrew from the Iran nuclear deal in May and reimposed sanctions to choke Iran's economy and force it to renegotiate or change direction. The move has been exacerbating a financial crisis in Iran that has sent its currency tumbling.

"Iran attempted to conduct a terror attack on European soil just weeks ago... that is incredible," the premier said at a press conference that followed a meeting with three Baltic States' prime ministers—Lithuanian Saulius Skvernelis, Estonia's Juri Ratas and Maris Kucinskis of Latvia.

"Only two weeks ago Iran tried to carry out a terrorist attack on European soil while the Iranian foreign minister met with European leaders. This is unbelievable," Netanyahu charged.

The prime minister added that "the nuclear agreement with Iran also threatened Europe, because it did not put an end to Iran's race towards attaining nuclear weapons. In fact, it allowed Iran to engage in unlimited uranium enrichment."

"In a few years the deal would lead Iran not just to a nuclear bomb, but to a whole nuclear arsenal. At the same time, the billions of dollars transferred to Iran were used to oppress Iran's people and to expand Iran's plan to take over the entire Middle East, including Iraq, Syria, Yemen, Lebanon and many other places," Netanyahu added.

In a joint statement given by Netanyahu and Saulius Skvernelis, his Lithuanian counterpart on Friday, the prime minister said that he appreciates Skvernelis's position on the nuclear deal with Iran. "I would like to thank you and Minister of Foreign Affairs, Linas Antanas Linkevičius for the strong position you held in EU forums, for the truth and for Israel's sake," said Netanyahu.

"Today we have heard about three major airlines that have ceased to operate in Iran. More should follow, more will follow," Netanyahu maintained.

"Iran should not be rewarded for its aggression and its attempts to terrorize the Middle East, Europe and other places in the world, as they did just a few weeks ago, he stated."

Meanwhile, the EU is trying to support the Iranian economy in order to save the 2015 nuclear deal that US President Donald Trump abandoned.

European Union foreign minister Federica Mogherini said the EU was committed to cooperating with Iran and noted that "this aid package will expand economic ties in a way that will benefit our citizens."

In his visit to Israel, US National Security Adviser John Bolton said that, "The sanctions have already had a significant impact on the Iranian economy and on public opinion within Iran. The Iranians in the region continue to be belligerent—what they are doing in Iraq, in Syria, in Lebanon with Hezbollah, in Yemen, what they threaten to do in the Strait of Hormuz."

Regarding European aid to the Islamic Republic, Bolton said that he "expect that Europeans will see, as businesses all over Europe are seeing, that the choice between doing business with Iran or doing business with the United States is very clear to them."

"The president (Trump) has made it very clear—he wants maximum pressure on Iran, maximum pressure, and that is what is going on. There should not be any doubt that the United States wants this resolved peacefully, but we are fully prepared for any contingency that Iran creates," Bolton concluded.