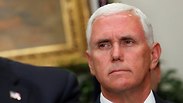 VP Mike Pence
Photo: Reuters
Pence pressures Paraguay over Jerusalem embassy move
US vice president's office says he 'strongly encouraged' Paraguayan President Mario Abdo Benitez to follow through on Paraguay's commitment to move embassy to Jerusalem 'as a sign of the historic relationship the country has maintained with both Israel and the United States.'
US Vice President Mike Pence urged Paraguay's new president to stick to his predecessor's decision to move its embassy in Israel to Jerusalem, Pence's office said on Thursday after Asuncion announced plans to shift the diplomatic mission back to Tel Aviv.

Paraguay on Wednesday dealt a blow to Israeli's quest for recognition of Jerusalem as its capital, which appeared to have gained some traction this year when the United States, followed by Guatemala and Paraguay, relocated embassies there.

Most countries do not recognize Israeli sovereignty over the entire city. Israel has declared Jerusalem the undivided capital of the Jewish state.


Pence, who played a main role in President Donald Trump's decision to move the US embassy to Jerusalem from Tel Aviv, spoke on Wednesday to Paraguayan President Mario Abdo Benitez, who was elected on August 15.

Pence "strongly encouraged" Benitez to follow through with Paraguay's commitment to move the embassy to Jerusalem "as a sign of the historic relationship the country has maintained with both Israel and the United States," Pence's office said in a statement.

Former Paraguay President Horacio Cartes opened the new embassy in Jerusalem on May 21, just days after the United States and Guatemala did.

Hours after Paraguay announced its change on Wednesday, Prime Minister Benjamin Netanyahu responded by ordering the closure of Israel's embassy in Paraguay.

The statement from Pence's office did not say how Benitez responded to the vice president's request.

It said only that Benitez "underscored Paraguay's lasting partnership with Israel and the leaders agreed to work towards achieving a comprehensive and lasting solution to the Israeli-Palestinian conflict."

Benitez on Wednesday defended his decision as part of an effort to support "broad, lasting and just peace" among Israelis and Palestinians.

Trump reversed decades of US Middle East policy. The status of Jerusalem—home to sites holy to the Jewish, Muslim and Christian religions—is one of the thorniest obstacles to forging a peace deal between Israel and the Palestinians.