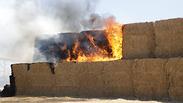 Archive photo
Photo: Shaul Golan
Israeli jets struck an incendiary balloon squad in northern Gaza on Friday morning after terrorists were seen launching flaming balloons and kites into Israeli territory.

The attack disrupts a prolonged period of relative calm on Israel's volatile southern border, after the defense establishment recorded a significant drop in the number of incendiary balloons from the Hamas-ruled strip that had terrorized Israel's southern residents and incinerated thousands of acres of farmland and landscape.

The latest launch and IAF retaliation is the first to have taken place in recent weeks.

In August, it was reported that Israel and Hamas had reached a ceasefire under Egyptian mediation, as Israelis living in the south urged the government to stem the daily launching of incendiary balloons and near-daily barrage of rockets that threatened to drag the two sides into yet another conflict.

With details of the progress of the ceasefire talks scant, Gaza's Hamas leader Yahya Sinwar said on Tuesday that no arrangement has been reached with Israel to put an end to daily hostilities, despite the quiet that has prevailed on the volatile border in recent days.

"I will state clearly: So far there is no agreement and not outline for an agreement for a ceasefire with Israel," the terror leader during a Hamas conference in the coastal enclave.

More mass protests are expected to grip the Gaza border on Friday afternoon.

Last Friday, thousands of Palestinians took part in the weekly "March of Return" demonstrations along the border fence, with rioters hurling stones and burning tires. A grenade was also thrown at an IDF force, nut injuries were reported.