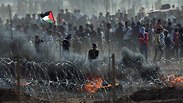 Gaza protest
Photo: IDF Spokesperson's Unit
Hamas leaders leave for Cairo to save ceasefire deal
Amid escalating border violence, Gaza terror group heads to Egyptian capital for a round of talks with intelligence officials in an attempt to revive negotiations regarding long-term arrangement with Israel and intra-Palestinian reconciliation; IDF says more than 100 explosive devices thrown at troops during Friday's riots.
A delegation of senior Hamas officials left the Gaza Strip on Saturday for a round of talks with Egyptian intelligence in Cairo, in order to save the possibility of reaching an agreement on intra-Palestinian reconciliation and a long-term ceasefire arrangement with Israel.

The Gaza delegation is headed by Khalil al-Hayya—the organization's deputy leader in Gaza. The Hamas leadership during talks will be represented by Saleh al-Arouri.

On Friday, seven Palestinians were reportedly killed in violent clashes that erupted between the IDF forces and the demonstrators along the Gaza border, as 20,000 protesters massed at several locations near the security fence.

The IDF Spokesperson's Unit said the rioters damaged the security infrastructure, tried to breach the security fence in several locations and hurled more than 100 improvised explosive devices and grenades at IDF troops. According to the IDF, there were no casualties among the Israeli forces.

On Saturday, the IDF began a process of neutralizing explosive devices thrown by the protesters.

The escalation of border violence is an attempt by Hamas to put pressure on Egypt during the negotiations. The Gaza terror group had promised earlier to intensify the riots in response to the collapse of indirect ceasefire talks with Israel and discussions regarding a reconciliation with the Palestinian Authority leadership.

Palestinian sources said the main obstacle to reaching an agreement is a stance of the Palestinian Authority's leader on the issue.

"Egypt's main interest is to reach an intra-Palestinian reconciliation in accordance with President Mahmoud Abbas's demand to remain the only Palestinian representative with whom any understanding can be reached regarding Gaza," the source stressed.

On Thursday, Hamas once again criticized Abbas's positions on the issue following the 82-year-old's speech during the UN General Assembly.

"The speech is a declaration of the failure of his policies and recognition of the end of reconciliation talks," stressed the terror group's statement.

"The situation the Palestinian people currently find themselves in is a result of mistakes that Abbas has made despite the warnings of the Palestinian factions," the statement concluded.

Hundreds of Hamas supporters marched in anti-Abbas protests late Thursday, burning his posters after his speech at the UN.

Abbas slashed funding to Gaza and cut salaries of Palestinian Authority employees there to pressure Hamas, making it increasingly difficult for it to govern. Hamas fears

Abbas may further reduce funding to health care and other services for Gazans provided by the Palestinian Authority.

Associated Press contributed to this report.