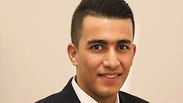 Terrorist Ashraf Walid Suleiman Na'alwa
Photo: Facebook
Ashraf Walid Suleiman Na'alwa, the terrorist who murdered two Israelis at the Barkan industrial zone, forced a cleaner at gunpoint to handcuff one of the victims, Kim Levengrond Yehezkel, the Israeli Public Broadcasting Corporation (IPBC) reported on Monday.

Kim's body was found with her hands bound by cable tie, which the terrorist took several minutes before the attack from the storeroom of the Alon Group's recycling factory, where the attack took place.

Defense officials told the IPBC that Na'alwa threatened to shoot the clearer, who was at the scene of the attack by chance, if he did not tie up Levengrond Yehezkel.

According to the report, after the cleaner handcuffed Kim, the terrorist gave him a few seconds to escape, and he left the scene unharmed.

Only then did Na'alwa continue his killing spree, murdering Kim and Ziv Hagbi, and then escaping the area himself.

The cleaner, a 20-year-old resident of Nablus, was questioned by the Shin Bet, but at the moment he is not under arrest.

The new testimonies about the involvement of the cleaner still fail to provide an answer as to why the terrorist chose to handcuff Kim before shooting her dead.

Prime Minister Benjamin Netanyahu vowed on Monday night to bring to justice "the abhorrent murderer," adding, "The blood of Israeli citizens will not be spilled in vain."

Ziv Hagbi, 35, was laid to rest on Monday afternoon at the cemetery in Moshav Nir Yisrael. Kim Levengrond Yehezkel, 28, was buried late Sunday in Rosh HaAyin. Sarah Vettori, who was moderately wounded in the attack, was released from the hospital on Monday.