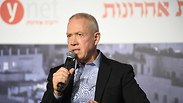 Housing and Construction Minister Yoav Galant
Photo: Yair Sagi
The Housing and Construction Ministry is planning a secure diplomatic complex in Jerusalem to house embassies that Israel hopes would follow the US and Guatemala's lead and move to the capital.

The plan, which was initiated by Minister Yoav Galant, will see the construction of a quarter that will include embassies, residential buildings for embassy employees and residences for ambassadors.

The embassies complex will be built over 100 dunams (25 acres) in the neighborhood of East Talpiot, close to the new American Embassy and some 1.5 kilometers (1 mile) from the separation barrier.

If more embassies move to the capital and the need arises for another complex, it will be built in the Rekhes Lavan neighborhood.

The plan for the new embassies complex was recently submitted to the Israel Planning Administration and will soon be sent to the planning committees.

The plan leaves "windows" to the vistas of the area, so diplomats would be able to see East Talpiot, the edges of the Judean Desert and even the Dead Sea from the embassy buildings.

Like the American Embassy, the new complex will be surrounded by a security fence.

At present, only two embassies have moved to Jerusalem—the United States and Guatemala. Paraguay moved its embassy to the capital in May, but four months later a new government moved it back to Tel Aviv.

The Czech Republican opened the "Czech House," a cultural center, in Jerusalem as an initial step, with the intention of eventually moving the embassy to the capital as well at a yet undetermined date.

Meanwhile, Israel is talking to about 10 other countries in an effort to convince them to move their embassies to Jerusalem or take any steps in that direction.

Australia is expected to announce its recognition of Jerusalem as Israel's capital this week, but at this stage it is not expected to move its embassy there.

"I'm convinced many additional countries will move their embassies to Jerusalem," Minister Galant said. "Therefore, I've instructed the professional ranks in the Housing and Construction Ministry to create appropriate solutions for a location for the embassies in the future, among other things in a special 'diplomatic quarter.'"

"I turn to the international community and say: Moving your embassies to Jerusalem, our eternal capital, is the right thing to do. Hurry up, the best spots are running out," he added.