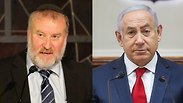 Attorney General Avichai Mandelblit (L) and Prime Minister Benjamin Netanyahu
Photo: Amit Shabbi/ Mark Israel Salem
Senior legal officials predicted Monday that Attorney General Avichai Mandelblit will not publish a decision on the corruption investigation into Prime Minister Benjamin Netanyahu in the run-up to Election Day on April 9, 2019. The elections were announced earlier Monday, after the government came to the conclusion that it was unable to pass key legislation.
Mandelblit will not issue any decision regarding the potential criminal indictments facing the prime minister in the time period ahead of the elections so as to not be viewed as trying to influence the democratic process. Mandelblit's deliberations will nonetheless loom over the election campaign.
The dramatic decision to hold early elections coincided with the first day of Mandelblit's deliberations with his full team on the investigation into Netanyahu. It is still unclear, however, how long these discussions will take, and when the decision on indictment will be made.
"The investigation was carried out with determination and professionalism. The staff will now meet frequently in my office. The team is fully focused on the task at hand. We will examine the evidence in order to make the decisions required by law. We will do everything to work quickly, but not at the expense of the decision-making process," Mandelblit said last week.
The attorney general is the only legal body authorized to file an indictment against an incumbent prime minister, therefore he will be making the final decision regarding Netanyahu's cases.
In a statement, the Justice Ministry said the probe will continue "as planned" and "will not depend on political events."
Police have recommended that Netanyahu be indicted in the series of corruption probes, and aides to Mandelblit have also reportedly recommended indicting the prime minister.
However, the position of two senior officials carries an important weight: Tel Aviv district attorney for tax and finance, Liat Ben-Ari, and State Prosecutor Shai Nitzan who will provide, in the case of an appeal, the defense umbrella in the High Court of Justice. Ben-Ari last week recommended indicting Netanyahu on charges of bribery in three separate investigations.