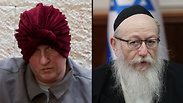 Malka Leifer; Deputy Minister Litzman
Photos: Amit Shabi, Alex Kolomoisky
Report: Litzman threatened Health Ministry officials over help to pedophile teacher
The deputy health minister reportedly pressed officials in his ministry to produce a psychiatric evaluation deeming Malka Leifer, an ultra-Orthodox woman wanted for extradition by Australia for pedophilia, unfit to stand trial—or risk dismissal.
Deputy Health Minister Yaakov Litzman has reportedly threatened to fire officials in his ministry if they didn't produce a psychiatric evaluation deeming an ultra-Orthodox woman wanted for extradition by Australia for pedophilia unfit to stand trial, according to Channel 13 News.

Litzman was questioned by police on Thursday on suspicion he used his position and authority to sabotage the extradition of Malka Leifer, a former principal of the ultra-orthodox Jewish girls' school Adass Israel in Melbourne, who was charged with 74 sexual offenses she allegedly committed against three sisters between 2001 to 2008.

Police investigators have central evidence that raises the suspicions against the deputy minister, according to Channel 13 News.

One of Litzman's close associates also reportedly told one of the witnesses in the police investigation, a senior health official, that if he doesn't act as Litzman instructs him, he will ousted from his position.

The Israel Public Broadcasting Corporation (IPBC) reported that Litzman held a meeting, which he requested, with a psychiatrist who serves as a key witness in Leifer's trial in an effort to pressure him into signing off on the professional opinion that finds Leifer unfit to stand trial.

According to the report, a complaint was filed against this psychiatrist to the Israel Medicine Association's Ethics Board, claiming he was needlessly dragging his feet on the matter.

Police suspect Litzman made additional decisions in the Health Ministry to benefit his close associates. He is expected to be questioned by police again this week.

Litzman's close associates dismissed the suspicions against him of breach of trust and obstruction of justice. "He didn't intervene on the matter and has nothing to do with this story," said one associate. "He fully cooperated during questioning, which lasted several hours, and was very calm—because he knows he didn't do anything."

Leifer, who is claiming insanity, was documented in December 2017 by private investigators hired by the Jewish Community Watch living a normal life and functioning independently.

Footage that came to light on Saturday shows her walking around her neighborhood in Jerusalem, shopping, and waiting in line at the post office. This footage led to the renewal of the extradition process against her and prompted her close associates to turn to Litzman for his help in securing a new psychiatric evaluation that deems her unfit to stand trial.

Malka Leifer documented living normal life in Jerusalem

Leifer is facing trial in Australia for 47 indecent act offenses, 13 offenses of indecent assault of a minor, 11 rape charges and three additional charges. She fled Australia to Israel in 2008 under suspicious circumstances after accusations against her had surfaced.

She was arrested in Israel in 2014 and currently awaits the completion of the extradition proceedings. In 2016, a Jerusalem court determined Leifer was unfit to face extradition and trial, halting the extradition process. In March 2018, a new psychiatric evaluation of Leifer found she was fit to face trial, resuming the extradition process.


Leifer's lawyers, Tal Gabbay and Yehuda Fried, said their client "has been under arrest for over a year due to one psychiatric evaluation that determined Mrs. Leifer was healthy and seemingly fit to stand trial, after a double-digit number of opinions from different times that determined—and still determine to this day—that she is mentally ill and unfit to stand trial."

"If that is not enough, the psychiatrists at the Israel Prison Services do not accept the determination that Mrs. Leifer is healthy, rather they diagnose her as mentally ill and are currently giving her a significant anti-psychotic treatment, while increasing the dosage from time to time," the lawyers said.

"In any case, state authorities are certainly not aiding or intervening on behalf of our client—unfortunately the situation is the opposite. We are confident that outside noises will not prevent the court from reaching the truth with the best professional tools at its disposal, and we reject any attempt by interest parties to influence the court using reports of different kinds," Gabbay and Fried said.
Litzman's system: 'Leifer is just the tip of the iceberg'
Throughout Litzman's tenure in the Health Ministry, similar claims have been made about his intervention on behalf of his close associates—from his rabbi, Yaakov Aryeh Alter, the Rebbe of the Hasidic dynasty of Ger, who was received special treatment while in the hospital, to common ultra-Orthodox people who received personal visits from him and preferential treatment from the medical staff.
The two doctors who wrote the psychiatric evaluation that determined Leifer was unfit to stand trial, Dr. Gadi Lubin, formerly the head of the Mental Health Department at the Health Ministry, and Dr. Jacob Charnes, the Jerusalem District Psychiatrist, denied that Litzman or any of his people had put any pressure on them.
"I wasn't under any pressure from Litzman or his people to change the opinion I wrote," Dr. Lubin said.
But other health officials rejected their claim. "They are afraid to admit that they gave in to the pressures put on them," said a senior psychiatric. "Changing a psychiatric opinion for reasons that are not professional and could help a pedophile avoid trial, could lead to their medical licenses being revoked. If they don't provide convincing explanations to the police, I estimate there would be no choice but to take legal actions against them."
Many doctors have told Yedioth Ahronoth over the weekend that Leifer's case was not unique.
"Litzman's people turn to us with requests for help, and we are required to provide assistance," said an official from one of the HMOs in the country. "It always concerns members of the Haredi population. One time it was a request for an earlier appointment with a doctor, another time it was to approve a drug that isn't in the healthcare basket."
"No one can withstand such requests, and we are forced to agree to them," he said. "Leifer's case is just the tip of the iceberg. If anyone examines all of the cases Litzman was involved in, the deputy minister would be in interrogation rooms until after the elections."
A senior Health Ministry official said that "everyone knows Litzman's system. He claims he doesn't interfere, but the message is clear: you must approve the treatment or arrange an appointment. This is against the rules of ethics and good governance. Litzman feels he is above the law. No minister before him has acted that way."
Yael Friedson, Rotem Elizera and Eli Senyor contributed to this story.