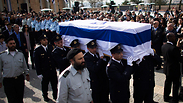 Ariel Sharon's coffin. 'We should remember both his courage and his dangerousness'
Photo: Reuters
We didn't bid farewell to a private person here. His sense of humor and his smile, his love for his wife and his devotion to his family, his fondness of his workers and his unexpected softness towards them – all those, if you'll allow me – are nostalgic memories whose real value and emotional meaning can really only be found between family and friends.

Most of us were not friends of the late Ariel Sharon. We didn't embrace his associates and relatives at the funeral. And yet, we should remember that he touched our lives, the life of each and every one of us, like active military leaders and politicians and prime ministers do. Although he just passed away, the deeds should be remembered, for better and for worse: As citizens longing to live in the complicated place we live in – it is also our duty to remember.

Hero of Israel

Op-ed: God chose Ariel Sharon to save an entire nation not just once, but four times

He was one of the more controversial military leaders in the history of a young nation which sanctified and glorified its military leaders, but also their duty to obey the political echelon – and did not know how to obey. Cunningly, he waged a war not only on enemies but also on his commanders, and we should remember both his courage and his dangerousness. Because the person who led the storming of targets in an enemy state with Unit 101, was also the person who qualified in the IDF a myth of spectacular operations, not always needed, not always free of unnecessary losses (the battle over the Mitla Pass, for example), in the name of an abstract fame of warriors and a bleeding aura of heroes.

And the person who was a desperate division commander in the Yom Kippur War and the father of the "get a move on" idea, with or without authorization to move and risk forces, came to the war after founding his own retaliation theory in the Gaza Strip: It was called "purification." Totally disproportionate collective punishment sponsored by Golda Meir, massive population displacement, thousands of detainees. Arik's bulldozers could do anything in the Strip in the years he ruled it, apart from uprooting terror.

For several years the land was at peace on that border, but the next waves of terror were a bloody game of response and retaliation and response, which continues to this very day and is being conducted here with sickening political blindness, without any vision beyond the range of the tank and plane. Unfortunately, he instilled this doctrine to his successors as a unique legacy. The price is being paid by all of us.

He had a vision, unlike most military leaders. And there were bad days in which his vision became the order of the day. The person who motivated soldiers as defense minister in the first Lebanon War, in the "Big Oranim" plan which was never approved by the government, who fed a sick prime minister with lies, who was deemed unfit to serve as prime minister, dreamed of crowning a king in Lebanon. Too many young men are buried in orderly rows in the name of that dream. In real time they knew they were going to war for him, and not in order to secure the peaceful existence of the state they are serving.

And nevertheless, when he returned to politics, he returned as the king of refurbished images, a good father and a brave grandfather, an innocent lamb on his wide shoulders as a confidence-inducing symbol. An entire generation has passed, those who have been buried – have been buried, our civilian memory is short-term and shaky. We forgot. We wanted to forget.
A visionary statesman?
And perhaps we also didn't want to understand that he took along the ethos of "get a move on" to politics. The father of settlements dreamed of filling the West Bank with blooming Jewish communities, no matter what. The prime minister, who realized that they cost a lot of money, put the flow of funds in the hands of a young and energetic finance minister who left behind scorched social earth, fertile ground for the growth of the country's rich, those who are enjoying the fruits of economic concentration planted during Sharon's days as prime minister.

His days in the premiership were the days in which tycoons from here and there began visiting the Prime Minister's Office freely on a permanent basis, and he was the first prime minister to nurture the "I am entitled to" culture. That too began before this position: The owner of the largest private farm in Israel learned nothing from the modesty of Menachem Begin, his venerable teacher. This unhealthy association, which always borders on concerns of moral corruption, was not invented by him, but during his days it became public and free of guilt. And when there was guilt, his sons took it upon themselves with endless devotion.

At a certain stage he gave up on Gaza. There is no other way of understanding why he promoted and executed the disengagement plan, apart from the conclusion that there is no military solution, but that there is also no desire for a diplomatic solution. Too many of us were led astray by the disengagement act: Both those in favor of it who failed to understand that it doesn't solve a thing, because bulldozers may need strategic depth but missiles couldn't care less about it, and those who were against it and cursed him vigorously. Those who see him as a visionary statesman because of the disengagement had better get themselves a residential secure space.

To his lovers, to those insisting on eulogizing him as if his heroic acts and the policy he led took the State of Israel towards a better future – because that's the way prime ministers are measured historically – I would suggest that they reconsider how his life in the public arena benefited all of us.

As a private person, I am sure he was good and benefitted those who knew him. Many knew him, many loved him, and they will likely miss him very much. But it's not the private person we buried, but the controversial prime minister, and the controversy will continue, now and in the coming years.