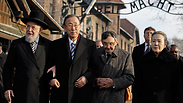 UN Chief Ban Ki-moon walks through infamous 'Arbeit Macht Frei' gate
Photo: Reuters
This year's observance of the International Remembrance Day on January 27 – the anniversary of the liberation of the Auschwitz concentration camp – falls at a time when there are reminders all around us of the dangers of forgetting. This year marks two decades since the genocide in Rwanda. Conflicts in Syria, South Sudan and the Central African Republic have taken on dangerous communal dimensions. Bigotry still courses through our societies and our politics. The world can and must do more to eliminate the poison that led to the camps.

I visited Auschwitz-Birkenau last November. A chill wind was blowing that day; the ground was rocky underfoot. But I had an overcoat and sturdy shoes; my thoughts went to those who had had neither: The Jews and other prisoners who once populated the camp. I thought of those captives standing naked for hours in icy weather, torn from their families and shorn of their hair as they were readied for the gas chambers. I thought of those who were kept alive only to be worked to death. Above all, I reflected on how unfathomable the Holocaust remains even today. The cruelty was so profound; the scale so large; the Nazi worldview so warped and extreme; the killing so organized and calculated nature.

Nazi Horror

Yehuda Shohat and Elad Zeret

Private correspondence of architect of Final Solution shows how top Nazi was willing to shoot his own mother if Hitler asked, but despite mass murder surrounding him family life was indispensable

The barracks at Birkenau seemed to stretch to the horizon in every direction - a vast factory of death. The "Book of Names" identifying millions of Jewish victims filled a room yet contained just a fraction of the toll, which also encompassed Poles, Roma, Sinti, Soviet prisoners of war, dissidents, homosexuals, people with disabilities and others. I was especially moved by a video showing European Jewish life in the 1930s – scenes of family meals and visits to the beach, musical and theatre performances, weddings and other rituals, all savagely extinguished through systematic murder unique in human history.

Marian Turski, a Polish Jew who survived Auschwitz and is today the vice-president of the International Auschwitz Committee, walked me through the infamous "Arbeit Macht Frei" gate – this time in freedom. Rabbi Yisrael Meir Lau, a survivor of Buchenwald and now the chief rabbi of Tel Aviv, stood with me on the ramp where the transport trains unloaded their human cargo, and recounted the traumatic moment when the swift flick of an SS commander's index finger meant the difference between life and death. I grieve for those who died in the camps, and I am awed by those who lived – who bear sorrowful memories yet have shown the strength of the human spirit.



'Above all, I reflected on how unfathomable the Holocaust remains even today' (Photo: Reuters)
I was also accompanied by students from the International Youth Meeting Center in Oswiecim, who work to build bridges among people and nations. L'dor v'dor, Marian Turski said to me - Hebrew for "from generation to generation", the passing on of wisdom. It is for this reason that Auschwitz-Birkenau is on UNESCO's World Heritage List. We cannot build the future without remembering the past; what happened once can recur.
Combating hatred is among the cardinal missions of The United Nations. Our human rights mechanisms work to protect people. Our special courts and tribunals strive to combat impunity, deliver justice and deter violations. UN special advisers on Genocide Prevention and the Responsibility to Protect scan the world for the precursors of atrocity crimes. The Alliance of Civilizations initiative seeks to counter manifestations of hatred, from anti-Semitism and Islamophobia to ultra-nationalism and bias against minorities. Our new "Rights Up Front" effort seeks to strengthen early action to prevent grave abuses of human rights.
For almost a decade, the "United Nations and the Holocaust Outreach Program" has been working with teachers and students on all continents to promote tolerance and universal values. The program's newest educational package, produced in partnership with the United States Holocaust Memorial Museum, will help to introduce Holocaust studies into classrooms in countries ranging from Brazil and Nigeria to Russia and Japan. At this year's remembrance ceremony at UN Headquarters, the featured speaker will be Steven Spielberg, whose Shoah Institute for Visual History and Education was a landmark in preserving survivor testimony.
A few steps from the crematorium at Auschwitz, I took a moment to myself for reflection. I touched a barbed wire fence – no longer electrified but still sharp and intimidating. I felt overwhelmed by the enormity of what had happened within, and humbled by the courage and sacrifice of the soldiers and leaders of many nations who defeated the Nazi menace. My hope is that our generation, and those to come, will summon that same sense of collective purpose to prevent such horror from happening again anywhere, to anyone or any group, and build a world of equality for all.
United Nations Secretary-General Ban Ki-moon's article is being published simultaneously in the world's leading newspapers