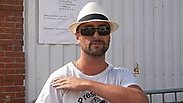 Police are still searching for the man in the images
VIDEO - French authorities have filed preliminary charges against a website administrator over photos online appearing to glorify a deadly attack on a Jewish school.

Authorities and anti-racism groups hope cases like this help stanch the spread of a controversial arm gesture known as the "quenelle." Considered by some to be an inverted Nazi salute, it is increasingly being used to express anti-Jewish views.

Video courtesy of jn1.tv

The website administrator is accused of hosting "a number of anti-Semitic messages and photos" — including those of a man performing the quenelle, Toulouse Prosecutor Michel Valet told The Associated Press on Wednesday. He said the man was charged late Tuesday with inciting racial hatred and released under judicial supervision.

Special Interview

Nobel Peace Prize laureate tells Ynet about never-ending struggle against anti-Semitism and recognition that it will likely never be defeated

The prosecutor said one of the photos shows a man wearing a Yasser Arafat T-shirt doing the quenelle in front of the Toulouse school where gunman Mohamed Merah killed three children and a rabbi in 2012. In another, the man is in front of Merah's apartment building.

Police are still searching for the man in the images.

The provocateur-comic who popularized the gesture, Dieudonne M'Bala M'Bala, and many of his followers insist the quenelle just sends an anti-establishment message, not an anti-Semitic one. Dieudonne, however, has been repeatedly convicted for inciting racial hatred and anti-Semitism, notably for comments making light of the Holocaust.

The Toulouse prosecutor said after the attacks on the Ozar Hatorah school in 2012, the city saw a "Merah effect" of increased anti-Semitic acts. Merah, a 23-year-old Frenchman who professed radical Muslim views, was killed in a shootout with police.

Valet said he is concerned that images of the quenelle online could revive such behavior, particularly among alienated young people.

Soccer star Nicolas Anelka drew attention to the quenelle by doing one to celebrate a goal. Anelka, who says it wasn't meant as anti-Semitic, faces an English Football Association disciplinary hearing over the gesture that could result in a minimum five-match ban.

Separately, French authorities are investigating suspected tax evasion by Dieudonne and searched his home this week west of Paris.