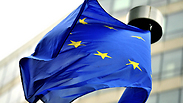 'We must thank Europe for forcing us to kick it off before it's too late'
Photo: AFP
On September 18, Scotland's residents will vote on the establishment of an independent country and splitting from Britain. On November 9, the residents of the Catalonia region, whose capital is Barcelona, will vote on gaining independence from Spain. And In March 20-22, 89% of the residents of Venice voted in favor of turning their city into an independence state and splitting from Italy.

Now imagine what would happen if Israel's ambassadors in these different countries intervened in the vote and instructed the Scottish people how to vote, or transferred funds to the Venetians to split or stay in Italy. Imagine what an uproar this insolent behavior would raise in Europe, and rightfully so.

Settlement Ban

Op-ed: While human rights trampled worldwide, EU leaders preoccupied with greatest calamity of all – 'Israeli settlements.'

So what right or authority has the ambassador of "the ill giant," the European Union, to intervene in Israel's internal affairs? Are we part of their union?

We have gotten so used to this meddling, that we have failed to ask them till this very day: Why does this actually concern you? Would you want us to intervene in the European Union's affairs? Perhaps it would actually be a good idea to start funding the Catalonians, the Walloons in Belgium or the Basques in Spain through subversive associations for "human rights" – like the Europeans do here.

EU Ambassador to Israel Lars Faaborg-Andersen said this week that the EU was "disengaging from the settlements," thereby continuing the blatant intervention in the internal affairs of a sovereign country in which he is a guest. It's true that he tried to soften the message with talks about cooperation with Israel – but we, tired of hearing this frequent European undermining, won't listen to it anymore.

It's important to remember that wherever there are Jewish settlers, security and stability will remain. And vice versa: An area free of settlers is a future Salafi-jihadist area, like what happened with the disengagement from Gaza.

Does the ambassador expect Israel to commit suicide and turn into Syria or Iraq, with terrorism entering deep into its belly? We are willing to do that only if London becomes semi-jihadist, as well as Berlin, Madrid and Stockholm. The day Paris is divided between the French and al-Qaeda and the Jihad, with an ability to fire missiles at the Élysée Palace, we'll agree to a division in Jerusalem too.

While the ambassador was speaking in Jerusalem, cries of joy were heard in Gaza from the Hamas and Jihad – how they managed to fool the Europeans, who will perhaps recognize a imaginary technocratic government and funnel money to Hamas too, and at the same time they voiced threats that they would never recognize Israel and that all the lands of the historical Land of Israel belong exclusively to them.

Can't that ambassador see the shocking deceit and the threats of annihilation?

Even worse: How dare a foreign ambassador intervene in our internal affairs, while once again Jews cannot walk around proudly in his continent? Can't he and his boss, EU foreign policy chief Catherine Ashton, see the escape of Jews from France, Belgium and other countries in the European Union, like in the 1930s? Even Jews still have human rights in the old continent, whose heartbeat speeds up when it remembers its anti-Semitic past.

Perhaps we should thank the EU, which has no time to deal with Syria, Iraq, Hungary or Ukraine, and is only obsessed with us. That way, it is forcing us to turn to the east and build the Israeli market with the Chinese, the Indians, the Koreans and the Japanese.

And this is indeed happening: Israel's first trade partner is still the EU, but the second is already Asia. The United States has fallen to the third place. The economic and demographic future in the ill, immigrant-flooded Europe appears gloomy, and we must thank that continent for forcing us to kick it off before it is too late.

After all, we are not in Europe. We are in Asia, and that's a good thing.