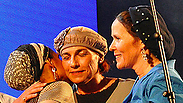 Murdered teens' mothers. How much more grief can we possibly take?
Photo: MCT
I started writing this piece several times now, not quite sure how to begin or to adequately convey my feelings.

For right now, I am utterly sick to the gut with every fiber of my body. Feelings of rage and anger intertwined with sadness, tears and despair.

For 18 days, three Israeli families and a collective nation hoped and prayed for the best, until Monday, when we were mercilessly delivered the fateful news, that Eyal Yifrah (19), Gil-Ad Shaer (16) and Naftali Frankel (16), three beautiful innocent boys, with their complete lives still ahead of them, were brutally murdered by Palestinian Hamas terrorists.

Nation United

Op-ed: Not a single person, regardless of political views, remained indifferent to the horrible death of three teens murdered on their way home from school.

Today, three families and an entire nation weep collectively.

The three Israeli teens were abducted on June 12 in Gush Etzion (West Bank, Israel), when they were hitchhiking on their way home from school. According to a number of reports, they were killed while still in the backseat of the car, with one of the victims even being on the phone to police at the time to report the kidnapping.

To describe these murderers as cold-blooded savages would not even begin to do justice.

What sort of a human being kidnaps and then senselessly murders children, so brutally, and for no other reason than them being Jewish and Israeli?

Many world leaders, who have already expressed eloquent condemnations of these murders, have inevitably also called for Israel to exercise "restraint" and "proportion" in our response.

But what kind of action could ever be "proportionate" or "restrained" enough against such barbarism?

This cowardly and brutal murder of children is a crystallization that the West, with Israel at the forefront, is fighting a war against pure evil, which knows no boundary and abides by no rules or norms of war.
What does this say about Palestinian society?
Shortly after the bodies were found, a Hamas spokesman said that any Israeli action over deaths of the three teens would "open the gates of hell." No, the gates of hell were opened when you decided to mercilessly slaughter three of our children. Israel will however be the one to close the gates on you.

Now, I can't help but ask: Was the murder of these three boys also the death of peace, or whatever shreds of hope we still had?

What does it say about a Palestinian society, where so many celebrated the kidnappings, including by handing out candy and creating a sadistic "three-finger salute," or where the mother of one of the Hamas abductors said how "proud" she was of him, while the father of the other was overjoyed that his son might become a "martyr"?

I am reminded here of a quote by former Israeli Prime Minister Golda Meir, who once said that "there will only be peace in the Middle East when the Arabs learn to love their children more than they hate us."

Granted, some brave Palestinians also spoke out against the kidnappings, but many, far too many, rejoiced and celebrated this vicious act.

No doubt in the coming days, most likely before the bodies are even buried, Israelis will be told that it is now more imperative than ever that we "take risks for peace."

But peace with whom I ask? Peace with the Hamas terrorists who feel no compunction in kidnapping and murdering young children and indiscriminately firing rockets at Israel, and whose very charter is predicated on the destruction of our State?

Or the so-called moderate Mahmoud Abbas, who embraces such genocidal murderers into his government?

Israel is a nation that is only too versed in tragedy, and now must bury three more of her cherished sons, who will be buried today, symbolically side-by-side, just as they died.

This incessant assault, no less than on our very existence, leaves an indelible mark on our collective psyche, leaving us to question how much more grief can we possibly take?

But we have no choice, for there is only one Jewish state, Israel, and we must prevail.

If there is any comfort to be drawn from this nightmare, it is the resilience of the Israeli people, which is perhaps best encapsulated in the parents of the three murdered teens, whom I had the chance to meet personally at the Knesset just last week.

The sheer strength, courage and optimism of these families is truly inspirational, and all the more remarkable given the circumstances.

Only a week ago, the three mothers of the murdered teens were at the Western Wall in Jerusalem, when they came across a group of high-school girls praying for the well-being of their sons. Rachel Frankel, mother of Naftali, turned to the girls and asked them to "stay strong and united." She then later noted there is "special spirit" in the Jewish world and that "every heart we hear is beating with us."

Indeed today, every heart in Israel and the Jewish world is beating with the families of Eyal, Gil-Ad and Naftali, as again we unite in grief and solidarity, drawing strength and comfort from each other and asking: Where do we go from here?

Arsen Ostrovsky is a freelance writer and international human rights lawyer.