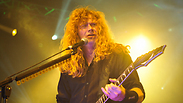 Megadeth in Tel Aviv in 2011
Photo: Ben Kelmer
Megadeth, one of the most veteran and important metal bands in the world, will not perform in Israel this Wednesday due to the security situation.

The band posted the following statement on its Facebook page Tuesday morning: "Due to an inability to confirm the guaranteed passage of the band and their gear into Tel Aviv in time for the show, the upcoming Megadeth concert, scheduled for Wednesday, August 6, 2014, has been cancelled.

It's a Promise

American boy band member A.J. McLean says he is disappointed group had to postpone July concerts due to security risk. 'It's a horrible thing going on down there. We're definitely praying for both sides.'

"The band was looking forward to this concert and is disappointed they will not be able to put on the show for their fans, but expects to return to Tel Aviv on their next international tour.

"Ticket holders should contact their point of purchase to handle refunds. Check back tomorrow for further specific instruction on refunds."

Megadeth in concert

The Tel Aviv concert would have been Megadeth's fifth performance in Israel. Only two days ago, lead guitarist Dave Mustaine stated that he would not let the security situation or calls for anti-Israel boycotts affect his decision to perform in Israel.

Mustaine told Ynet in a special interview that no one would tell him where to perform, as he was a musician and not a politician.

Megadeth joins other musicians who have been forced to cancel their performances in Israel due to the military operation in Gaza, including Neil Young, the Backstreet Boys, Paul Anka, CeeLo Green and Brian Jonestown Massacre.