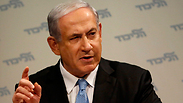 Netanyahu. Is he loyal to Israel or to himself and to his family?
Photo: EPA
Amnon Abramovich
Photo: Channel 2
Sometimes the right is right. In this case, the right is right: An election campaign should focus on serious matters of great importance, on fundamental issues in the nation's life; not on bottles, alcohol consumption rates and candles. Even the recruitment of Unit 8200's teleprocessing system in favor of Sara Netanyahu can be contained somehow.

I don't know about you, but I'm willing to finance plenty of whims, as long as the prime minister gets a rest from his wife, and his wife has fun in his residence.

Spot the Differences

Op-ed: Both the left and the right are correct in what they say about each other; but both sides are also mistaken and misleading.

In his first term, Netanyahu used to purchase expensive cigars from the Prime Minister's Office coffers. The matter reached the State Prosecutor's Office and created a dispute. Adv. Yehoshua Reznik thought the prime minister should be prosecuted, while Adv. Moshe Lador believed it was a minor issue.

At the end of that term, Benjamin and Sara Netanyahu were questioned by the National Fraud Investigations Unit on suspicion of stealing gifts given to the state and accepting free services from contractor Avner Amedi. It's hard to forget the reports about the couple's performance in those interrogations. Using terms from the world of theater, it was a police burlesque.

Labor Chairman Isaac Herzog is being teased today for using his right to remain silent in the NGO affair, in which he was a marginal suspect, but one could only hope in retrospect that Bibi and Sara would have been wise enough to remain silent in an investigation in which they were the main suspects.

The Likud's PR people are pushing the campaign into the political-diplomatic domain. It's strange that their rivals are not accepting the challenge. If Netanyahu has had one resonating failure, it was in the issue which is closest to his heart and frequently on his tongue: Iran.

He wasn't the first identify the issue as he claims. Former Prime Ministers Shimon Peres and Yitzhak Rabin identified it a decade before he did. They thought it should be combated diplomatically, including by ending or at least reducing the conflict with the Palestinians. They believed in a diplomatic-operative battle rather than a political-declarative battle.

According to different reports, the military leaders had reservations over the strike in Syria which killed Mughniyeh Jr. and an Iranian general. This is important to mention not in order to imply that the strike was political – it wasn't political – but in order to prove that the claim that the security echelon prevented a strike in Iran was false. As if then-IDF Chief of Staff Gabi Ashkenazi, Mossad chief Meir Dagan and Shin Bet chief Yuval Diskin would have thwarted an operation at the time.

Here's the contradiction: The prime minister can and is entitled to launch an operation against the professional opinion. The operational echelon's opinion can serve as an incentive for action and can serve as an excuse for inaction. It cannot serve as an obstacle.

In a party rally in Hadera before the 2009 elections, Netanyahu was recorded and filmed vowing to destroy the Iranian nuclear program. When he was elected prime minister, he said he was willing to make far-reaching moves vis-à-vis the Palestinians, as long as the Iranian nuclear program would come to an end in return. That was when the famous "Yitzhar for Bushehr" formula emerged. It is now clear to everyone that Iran will turn into a nuclear threshold state on his watch.

Netanyahu claims that he dealt Hamas the most serious blow in its history in Operation Protective Edge. Hamas is claiming to have gained the biggest achievement in its history. Hamas also made him capitulate in the Shalit deal and was more successful than it ever was until then.

But above all, we must focus on the shattered relationship with the American administration. If Netanyahu is reelected, he will make it easier for the White House to indicate to Europe that it should launch a boycott campaign against Israel. What that could do to the economy, growth and cost of living here – God help us.

The administration will no longer have to go to the trouble of blocking the Palestinians in the United Nations and in other arena. I doubt that it will rush to fund our different Iron Dome systems.

When on the eve of his meeting with the American president, Netanyahu sits down for a widely covered meeting with his sponsor, the president's biggest rival, sparking a row in political Washington, he is disregarding our relations with the administration in favor of his relations with the person who controls him. Such an incident is allegedly a case of breach of trust in the deep sense of the term.

Netanyahu is allowed to base his future on his sponsor, but what about our future and the future of our country? The big question is not whether he is corrupt or not, but whether he is loyal to Israel or to himself and to his family.

Amnon Abramovich is a Channel 2 News commentator.