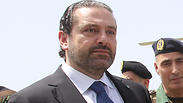 Lebanese Prime Minister Saad Hariri
Photo: AFP
Lebanese Prime Minister Saad Hariri has claimed that Israel "knows very well there are no missile factories in Lebanon."

Hariri was addressing foreign reports, confirmed by Prime Minister Benjamin Netanyahu as well as top IDF officials, that Iran is building missile factories in Lebanon to arm terror group Hezbollah with guided missiles.

"The Israelis are used to conducting campaigns of deception. They say Hezbollah controls Lebanon, and that is not true," he told French newspaper Le Monde in an interview published on Friday. "Hezbollah is present. It's in the government and it has support in the country. But this doesn't mean Hezbollah controls all of Lebanon."

He went on to say Lebanon's problem with Israel was that "its leaders always speak about war and security and never about peace. The late Saudi King Abdullah bin Abdulaziz left Lebanon in 2002 with the Arab peace initiative. What has Israel done in relation to that? Nothing."

Hariri addressed the reports for the first time after a warning last week from Defense Minister Avigdor Lieberman. "Iran, via its Revolutionary Guard, is trying to create a new reality in the region with Iranian air force and naval bases in Syria, with Shiite militias numbering thousands of mercenaries and by manufacturing precise weaponry in Lebanon. Israel does not intend to resign itself to these attempts and will not act as onlooker from the sidelines," Lieberman said.

The Lebanese prime minister has reportedly been working to prevent the construction of Iranian arms factory in his country.

Hariri was also asked about American and Israeli calls to change and expand the mandate of the United Nations Interim Force in Lebanon (UNIFIL) to foil Hezbollah arms smuggling into southern Lebanon, as well as about the American threat to stop its military aid to Lebanon over its army's ties to Hezbollah.

"I was in Washington in the spring and met with President Trump and visited Congress. To them, Hezbollah really is a cause for concern," Hariri responded.

"I asked them whether their problem was with Hezbollah or with the Lebanese people. The war against ISIS showed everyone the Lebanese army's abilities. Since my visit to Washington, the American administration knows more about what we're doing to strengthen all of the institutions of the Lebanese state and military, and the American aid to the Lebanese army will continue.

"The opinions and positions regarding Hezbollah and its role are different," Hariri emphasized, "but we've reached an agreement to put all of the unresolved regional issues aside, so it will not affect the government's activity, the state and the economy."