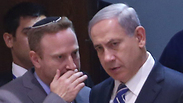 Ari Harow and Prime Minister Netanyahu
Photo: Alex Kolomoisky
Ari Harow allegedly receives kickback from Jewish businessman
Just two days after leaving Prime Minister's Office and founding own consulting company, Ari Harow receives NIS 545,000 payment from Jewish businessman for supposed 'consulting' deposited to company's account; after failing to deliver, businessman asks for money back, claims it was a loan.
Mere days after retiring as Prime Minister Benjamin Netanyahu's chief of staff, Ari Harow received more than half a million shekels from a Jewish billionaire deposited into the bank account of a company Harow founded only two days prior.

Sources close to the investigation claim this deposit was an investment, meant to incentivize Harow to act as the billionaire's mouthpiece with the Prime Minister's Office. Once the mogul realized Harow wasn't able to "deliver the goods," however, he demanded his money back and claimed it was only a loan.

The tale, details of which were discovered by the police, took place in early 2010. Two years before that, Harow replaced Ayelet Shaked as chief of staff for Netanyahu, who was then head of the opposition.

Last month Harow signed a state witness agreement for Cases 1000—the affair regarding gifts Netanyahu allegedly received from businessmen such as Arnon Milchan—and 2000—regarding talks between Netanyahu and Yedioth Ahronoth publisher Arnon Mozes for favorable coverage in return for restricting competing daily Israel Hayom— stating he'll be convicted of breach of trust and be sentenced to six months' community service and a NIS 700,000 fine.

In 2009, when Netanyahu was elected prime minister, Harow went on to serve in the Prime Minister's Office. However, in a media statement released March 11, 2010, Harow explained he was forced to resign due to illness. "I'm proud of having been able to stand alongside the prime minister and assist both him and the State of Israel to the best of my abilities," he said then.

In March 2014, he resumed working for Netanyahu as his chief of staff.

Immediately after his original leave of absence from the Prime Minister's Office, Harow founded a company called 3H Global, providing consultation services to states and international bodies.

The company was registered with the Registrar of Companies on April 6, 2010. Just two days later, on April 8, the company's checking account received a deposit of NIS 545,189 ($125,000). An invoice dated April 8 sent to the billionaire said the sum was for "consulting."

Contact with the billionaire was established back when Harow still served in an official capacity at the Prime Minister's Office and before 3H Global was founded, sources close to the investigation say.

"Their relationship was aimed at promoting the businessman's affairs at the Prime Minister's Office," the sources said. They added that Harow asked the money to be forwarded to him only after leaving the PMO, requesting the funds to be deposited to the company's bank account.

When the billionaire client realized Harow wasn't coming through on the services he expected to receive, he demanded the money be returned to him, claiming it was only a loan. Harow replied with the aforementioned tax invoice.

"The payment in question was a fee for services rendered by 3H Global," responded Harow's attorney Roy Blecher.

3H Global stands at the center of the police investigation against Harow. As part of the conflict of interests agreement he signed before reentering the PMO, Harow promised to sell the company. The investigation turned up the sale was merely for appearances' sake, though, and Harow continued his ownership, reaping its profits and promoting its endeavors while holding public office.

Arnon Mozes is the publisher and owner of Yedioth Ahronoth Group, which includes Ynet and Ynetnews.