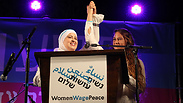 Women's peace rally
Photo: Amit Shabi
Giant women's peace rally calls for ending conflict
30,000 people attend Women Wage Peace rally in J'lem; sidestepping specifics, they call for end to hostilities through any mutual political accord; bereaved father and former MK Shnaan: 'Stop terrorism and stop occupation. Let's live for memory of our fallen and children that still remain.'
Some 30,000 people participated in a Jerusalem rally Sunday, the culmination of the Women Wage Peace organization's "Journey to Peace" campaign, with former MK Shachiv Shnaan, who lost his son in the July Temple Mount attack, calling for an end to bloodshed on both sides.

"Stop terrorism and stop the occupation. Let us live for the memory of both our fallen and our children that still remain," said Shnaan at the rally, which took place at the city's Independence Park.

The Women Wage Peace movement was created following 2014's Operation Protective Edge. It boasts a membership of 24,000 Israeli and Palestinian women, who started a journey from Sderot and the western Negev two weeks ago.

Their journey took them through Dimona, the Arava, the towns and kibbutzim around Gaza, Ashkelon, Tel Aviv and Nazareth.

The march's goal was to encourage politicians across the political spectrum to work on settling the conflict. The organization's women offer no specific resolution, instead opting to promote widespread public support for a conclusion to the conflict through a settlement, while integrating women into the negotiations.

"For the first time in Israel's history, a single movement has brought together women from every corner of the political spectrum to wage peace," said Dr. Marilyn Smadja, one of the group's founders.

"We came together despite our differences to demand a political settlement by a predetermined amount of time. We're not saying exactly which agreement is necessary, as long as it's agreed upon by all sides," she added.

Shnaan, who lost his son Kamil in the Temple Mount attack in which three terrorists gunned him and his colleague down and injured a third person, claimed to speak on behalf of both the Israeli and Palestinian sides.

"We've suffered much, Israeli and Palestinian families have lost their loved ones and were left with wounds that cannot heal. I'm here to say: we choose life. We're allowed to say it loud: we are lovers of peace. On behalf of the enormous crowd gathered here as well as hundreds of thousands of the country's citizen, I implore (Palestinian Authority President Mahmoud) Abbas and (Prime Minister Benjamin) Netanyahu: enough is enough, sit down together, because we want peace," he cried.

"Hear the cry emanating from our hearts. We hear the voices of justice and truth. We want peace, and hope will spring from this place. Every day tears run down my wife's face I feel her loss. That's why I'm here," Shnaan declared.

You want one country from the Jordan River to the sea? You can't have it. And you can't throw Jews into the ocean either. Stop incitement, stop terrorism and stop one people's rule over another. We're destined to live together and live together we shall, two states for two peoples, with love. May our cries be heard in the gates of Ramallah and Jerusalem, that's all I wish for. Yes to peace," he concluded his heartfelt address.

Liora Hadar, a settler from Alei Zahav, spoke at the rally and recounted the women she'd met along the way.

"I got into the Women Wage Peace movement to meet Israeli women from all across the social and political spectrum, to sit down together and hammer out topics we don't usually get to discuss," she explained.

"I also wanted, however, to meet Palestinian women and have a dialogue and an acquaintanceship with them. I believe change can come about if thousands of women decide together they simply won't live under the conflict anymore. I want to end the cycle of bloodshed, nothing to do with political Right or Left," she concluded.

Huda Ibn Akrov of Hebron also spoke at the rally. "As someone who's seen and been through difficult wars, as a Hebron resident and someone in contact with the people of Gaza, I'm here to tell you Gaza residents also believe in an end to hostilities and are crying out for peace," she said.

"Wars don't have any winners. We're neither Palestinian nor Israeli, but mothers who'll do everything for a better future for our children," she stated.

The world's largest dress—eight stories tall—was unveiled for the marchers in the Dead Sea. The dress is 22 meters high with a perimeter of 60 meters.

The dress was part of a project called "Prohibited" intended to raise awareness to the problem of "agunot," the term given to women whose husbands refuse to divorce them. The dress symbolizes female empowerment and will later be displayed in different places, both in Israel and abroad.

Artist Adi Yekutieli was entrusted with the display's creation.

"The dress represents power, strength and mutual responsibility. It was made of metaphors and similes created by 500 women. It's an image leading the way before an ever growing congregation," he said.