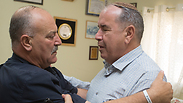 David Malka meeting with Shachiv Shnaan
Photo: Gil Nachshoni
After border policewoman Hadas Malka was murdered in a stabbing attack near the Damascus Gate this past June, her father, David, made contact with Ofer Cohen, whose own daughter Hadar was also murdered in a terrorist attack in the exact same place in February of the previous year.

The two fathers' connection brought about a joint decision they were able to carry out this past weekend when the pair went on a shared condolence visit to the communities of Hurfeish and Maghar in northern Israel where they met with the families of Staff Sgt. Maj. Ha'il Satawi and Staff Sgt. Maj. Kamil Shnaan, the two Druze police officers murdered last month in the Temple Mount attack.

The fathers first went to Hurfeish to visit the Shnaan family, and met with Kamil's father and former MK Shachiv Shnaan and the late officer's mother and sisters.

"On behalf of myself, my wife Geula and my entire family, we're sorry for your loss," said Malka on his visit. "Your son was a young man who had barely had a go at life, just like Hadas and Hadar."

Shnaan offered his own emotional words, lamenting the fact that they have met in such tragic circumstances.

"The heart aches that we've had to meet under these circumstances," said Shnaan. "The Jewish people have shown up in all their glory. People would come here, weep and then leave. The embrace we've been receiving has proven their sacrifice was not for nothing.

"My pain, and the pain of David and Ofer, is incomprehensible and almost too overwhelming to contain," he added. "In today's security reality, we have to hold on to the rifle. I'm lending my support to our security forces, despite my loss."

From Hurfeish the fathers travelled on to Maghar where they met with the family of Staff Sgt. Maj. Ha'il Satawi. His father, Afik, told them: "We have the task of carrying on and continuing our fallen children's legacies. We're also in pain because the terrorists were Israeli Arabs themselves."

"It's incomprehensible that young people lose their lives this way," Malka replied, before decrying the fact that "The terrorist's mother gave out candy."

Joining the bereaved fathers' party were the Border Police's Southern District Commander Emad Hassan and its rabbi.

Sgt. Maj. Satawi served in the Border Police as part of his regular service and signed on for permanent duty in 2012 as a patrolman at the Temple Mount unit of the Jerusalem district's David sub-district, where he served until his murder. In addition to leaving behind his infant son and wife, he is survived by his parents and two siblings.

Sgt. Maj. Shnaan also served in the Temple Mount. He is survived by his parents, brother and three sisters.

After Hadas Malka was murdered in June, Hadar Cohen's father reached out to the newly bereaved father of Hadas, David Malka, to offer his condolences. "We unfortunately have a shared destiny, and I'll stand by you until my dying breath," Cohen pledged to Malka.

"It was the exact same situation and attack," he continued. "I learned about it when I was vacationing in the north. It was immensely hard hearing a 'Border Policewoman was gravely injured' because it immediately made me think of Hadar.

"When I heard she was killed I was sent back a year and four months, and it was really difficult," Cohen said. "We'll help and support David. He has joined the Border Police family, which provides support and encouragement every day and every hour."

Hadar Malka was murdered in a combined attack, similar to the one which claimed the life of Hadas Malka. In fact, just several days after the attack Cohen published a Facebook post expressing her support of Hadar Cohen in particular and the Border Police in general.