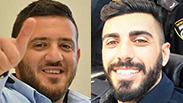 The two officers slain in the Temple Mount attack
Parents of officers slain on Temple Mount to police chief: 'Don't despair'
The parents of Ha'il Satawi and Kamil Shnaan meet with Roni Alsheikh and Jerusalem district commander at Western Wall; 'Don't give the miscreants who murdered your friends what they're after,' Shachiv Shnaan tells officer who served with his late son.
The parents of Ha'il Satawi and Kamil Shnaan, the two officers slain in the Temple Mount terror attack three weeks ago, met the Chief of Police Commissioner Roni Alsheikh and Jerusalem District commander Maj.-Gen. Yoram HaLevy at the Western Wall Thursday.

Also present were Brig.-Gen. Doron Turgeman, commander of the David subdistrict, and the commanders and officers serving under him, including officers from the holy sites unit.

The Temple Mount attack took place July 14 when three Umm al-Fahm terrorists armed with rifles and a pistol fired at the two officers, Ha'il Satawi (30) from Maghar and Kamil Shnaan (22) from Hurfeish, who passed away from the wounds sustained in the attack. Another 39-year-old officer suffered minor wounds.

"Kamil and Ha'il are gone. You're their friends, who worked with them, and are now continuing their hallowed work," Shachiv Shnaan said. "You've replaced our sons. We love and embrace each and every one of you. Don't despair or give the people who murdered your comrades what they're after. We have complete faith in you, and believe in you and your commanders."


Brig.-Gen. Turgeman then paid tribute to the heroic actions demonstrated by the officers before their deaths. "Today marks 20 days since the murder of Ha'il and Kamil, may their memory be blessed, who fought off the three terrorists with the utmost bravery," said Turgeman. "We talk about them almost every day. We see them in almost everything we do."

Chief Superintendent and Deputy Commander of the David subdistrict Avi Cohen added: "In most things we do the image of your children are at the forefront of our mind. They're always with us. Every corner we go round and every step on the Temple Mount reminds us of them. All of the different fragments of memory come together to form a larger picture."

After the shooting the terrorists absconded to the mosque area of the Temple Mount and, following pursuit, they were gunned down. Two Carl Gustav rifles and a pistol were found on their bodies.