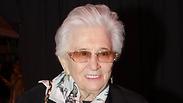 Ruth Dayan. 'We talk about everything'
Photo: Rafi Deloya
Dayan's widow, Arafat's mother-in-law talk peace
Peace negotiations between Israel and the Palestinians may have been suspended, but every Tuesday 100-year-old Ruth Dayan sits down for a Skype chat with her best friend, Palestinian poet and activist Raymonda Tawil, mother of Suha Arafat. Fifty years after they first met, both women agree there will be no solution to the conflict without an end to the occupation.
This is the story of two women, an Israeli and a Palestinian. They were both born here, they both love this conflict region, they are both avid supporters of peace and they have been best friends for the past 50 years.

One of them is an unshakable Israeli symbol, Ruth Dayan, the widow of Israeli military leader and politician Moshe Dayan. The other woman is Palestinian journalist, poet and activist Raymonda Tawil, whose daughter is the widow of Palestinian political leader Yasser Arafat.

Ruth lives in Tel Aviv. Every inch of her apartment is covered with mementoes, pictures and different items. Raymonda lives in Malta with her daughter Suha and her granddaughter Zahwa Arafat.

These two impressive women last met about half a year ago in Ryamonda's house. Almost every week, on Tuesday, they talk on Skype about their children, their grandchildren, literature, films and about the shattered hopes of peace.

I spoke to them in honor of the publication of the Hebrew version of Anthony David's book "An Improbable Friendship," which describes their long relationship and the stories of their lives. It was first published in English two years ago.

Their friendship began exactly 50 years ago. Ruth, who was already a very active public figure at the time, visited Nablus and asked to meet with a group of women to promote a dialogue and coexistence. She was approached by Raymonda, a 27-year-old leading young journalist.

"She told me there was a group of 10 people stranded on Allenby Bridge and asked me to use my connections to help them cross to the other side. I agreed. Since then, our souls have been tied together.

"We talk about everything, including about the current state of affairs. She is a vibrant, beautiful woman, full of life. There is something fascinating about her. Otherwise, it wouldn't have lasted so many years. I visited her in Malta twice, we also met in the United States, and I hope she'll come to visit me in Israel one day," Dayan says.

"I really want to visit and I'll try to come see her," 77-year-old Tawil says in a phone conversation from Malta conducted in a fascinating mixture of Hebrew, English and Arabic. "Yes, I'm aware of the fact that she's 100 years old and that time isn't on our side. But since Arafat died, I haven't felt like coming over there."

Tawil, who was born in the northern city of Acre, says she knows Hebrew but doesn't really have anyone to speak the language to. "With Ruth I actually speak English, which I consider my mother tongue," she says.
No longer a Zionist
Ruth Dayan sinks deep into her leather armchair. "I rest all day," she says, frustrated. "It drives me crazy. All my life I used to run around and was married to my job at Maskit (the legendary fashion house which Dayan founded and served as CEO of for decades). Today, I have to stay at home most of the day. My body is betraying me."

At the age of 100, it's a bitter betrayal indeed, considering how clearheaded she is. She remembers every single detail she ever encountered, both from 90 years ago and from yesterday morning. She followed the recent Labor leadership elections very closely, and even hosted candidate Amir Peretz at her house, at her daughter Yael's request.

"I told him I'm not a Labor member, because I was actually one of the founders of Meretz, but he thought that a word from me is important, that my opinion still counts," Dayan says. Now she asks me a series of inquisitive questions about the new kid on the block, Avi Gabbay.

She has a lot to say about Prime Minister Benjamin Netanyahu: "I know him very well even without knowing him personally, and I'm following him. He has no intention of making peace, and that's a shame.

"I was really angry with him a while ago. We met at a ceremony in honor of former IDF commanders in the north, which I was invited to. He shook my hand and said, 'I didn't know Moshe fought in the north.' I was shocked. You're prime minister and you don't even know that? You should at least learn something about the ceremony before you attend it," she says, the anger evident in her eyes.

"What's all this money going into people's pockets, some of whom are associated with the prime minister? Aren't people ashamed anymore?" she asks furiously, moving on to the submarine affair. "And every day you hear about rape and murder and children being left in cars. What's happening to us? In the past, we weren't rich and there wasn't a lot of money, and I don't remember any tycoons, but we had something to live for."

She takes a deep breath and goes on. "And what about this whole religionization issue? They've invented a new word for a very problematic existing situation. I see all the Haredim with their black clothes, and I'm definitely concerned."

She has a very short temper. If you don't agree with her, she gets irritated and aggressive. A moment later, she calms down. "I've been like this since I was a little girl. At the age of eight, when I attended school in England, the teachers used to comment about my temper, and it hasn't changed," she says with uproarious laughter that lights up her grey eyes and wiggles her white hair.

Far away in Malta, the ceaseless storm called Ruth Dayan is greatly missed. "I really love Ruth," Raymonda says. "She's very humane and educated. Every time I get angry at something happening in Israel, whether it has to do with Moshe Dayan or (Ariel) Sharon, I scream at her and she replies: 'I'm not Moshe! I'm not Sharon!'"

What makes Dayan lose her temper more than anything else is the lack of peace with the Palestinians.

"I'm very disappointed," she says. "There were times, and not so long ago, when it would have been very easy to make peace. Do you think the Arabs want to get killed? And we Jews, do we want to die? I worked in Gaza for eight years with Maskit, employing 300 women there. If that isn't coexistence, what is? But here, everything that can be crushed is crushed. And I see the faces of the fallen soldiers before my eyes and I ask myself and you, what's the point? Who is this for? Is it so that Bibi can say that he won in Gaza?"

And you don't even have a whiff of criticism against the other side? Are we the only ones to blame?

"There's always another side too. But we're the strong ones, and we're the ones who can do more. And the responsibility is on our shoulders."

She keeps firing in every direction, like only a 100-year-old person who has been part of Israel's history—and who has nothing to lose—can do: "I was born in 1917. I saw everything here. I knew everyone. I believed in the Zionism that established this state. But no more. I'm no longer a Zionist."

So as far as you're concerned, your grandchildren and great grandchildren can live wherever they want and not necessarily here, in the state you established?

"There's no more Zionism. The state is very small, and if we keep treating the Palestinians the way we do, we're doomed. The world will become increasingly anti-Semitic, and we won't be here anymore.

"As far as I'm concerned, each person can live whether they want. People aren't stupid. They see the direction the state is headed in, and hundreds leave every month. Personally, I wouldn't live anywhere else in the world. But I'm 100 years old, so don't take me as an example."

Her friendship with Raymonda isn't the kind of story you hear every day. "We met at a time when it wasn't conventional yet, and a friendship between a Palestinian woman and an Israeli woman wasn't considered normal," says Tawil, whose life story is unusual in itself.

"I grew up in Israel, in Acre, and then in Jordan and in Nablus, and now I divide my life between Malta and Dubai, together with my daughter Suha and my granddaughter Zahwa, who is 21 and beautiful." She's not only beautiful, by the way. Zahwa recently received her bachelor's degree from a university in Malta.

When 27-year-old Suha converted from Christianity to Islam in 1990 and secretly married Yasser Arafat, who was 61 at the time, Raymonda didn't hide her discontent. But because she was only informed about the marriage after it happened, she was forced to stand by her daughter's side. After Arafat's death, she moved in with Suha to help her with her little girl.

"It's true, I didn't like it, but it was her right and she did what she thought was best for her," she says.

Why don't Suha and her daughter come to Ramallah, where Arafat's grave is located?

"That's too personal to answer, but we'll come when the occupation ends."

Do you see a solution for the situation that has been created?

"One state is unrealistic. A Palestinian state within the 1947 borders is unrealistic too. We are left with a Palestinian state in the 1967 borders, and that's what the world is demanding too."

But Arafat eventually didn't sign the agreement.

"Ya habibti ("my dear" in Arabic), enough. That's the joke Netanyahu keeps telling everyone. Arafat agreed to receive 22 percent of the historical Palestinian state's land. If Bibi is unfamiliar with history, he should learn some.

"It breaks my heart that (former Prime Minister Yitzhak) Rabin was murdered. If he has remained alive, there would have been a Palestinian state alongside Israel a long time ago, and so many lives would have been spared. Aren't you tired of people getting killed? Hasn't enough blood been shed? Why don't you want to give us some land? Look, the Galilee is empty, the Negev is empty. The settlers should go there. And anyway, the refugees' right to return to their land should be recognized."

To the land of the State of Israel?

"Yes. Our right to return should be recognized. I may not want to return, but I should have the right to. I used to have an Israeli identity card, and it was revoked when I traveled to Jordan, when it was still considered an enemy state. I have fought for peace all my life, and it isn't coming."

Do you believe it'll come one day?

"Of course, and I hope it happens soon. But it won't come as long as Netanyahu is in power. I have been following Israeli politics, and I understand that (Isaac) Herzog is no longer the Labor Party leader. It's a shame, he's a good man. Tell me, is Ruth feeling okay?"

"I'm not feeling very well," Dayan says. "This is an annoying age."
No fear of death
Next to the armchair she sits in most hours of the day, lies an album with the number 100 in white digits on its blue cover. Her granddaughter, Amalia Dayan, prepared the beautiful album for a birthday party she threw for her three months ago. All her relatives and friends who are still alive were invited.

The walls of her apartment are covered with pictures and paintings starring her ex-husband, Moshe Dayan, the father of her three children—former politician Yael Dayan, sculptor Udi Dayan, and late actor and director Assi Dayan. There are also merit certificates hanging there, and even three honorary doctorate degrees. "I didn't graduate from high school, but I have three PhDs," she laughs.

At the center of the wall hangs an aerial shot of Moshav Nahalal, the place she misses more than any other place on earth, the place she would like to return to and milk cows. She came there as a 17-year-old girl, to study in an agricultural school. That's where she met and fell in love with Moshe Dayan, who arrived to tell the students about the moshav, and her life changed forever.

On the one hand, she informed us in advance that she did not want to answer any questions about Moshe, who she separated from when she was 53 years old. On the other hand, he seems to still be a key axis in her life. She mentions his name repeatedly, and she has a statue of his face in her living room, sculpted by her son Udi.

I muster up courage and ask her if she still loves him, in spite of everything. She gazes at the ceiling, hesitates for a minute and then says: "Not really. Only when I think about this country, I ask myself what he would have done. I think he would have brought peace, because he was a man of peace. He once wrote me a letter about it, which I read out at a Peace Now conference," she says, her eyes wandering elsewhere along with her thoughts.

She then tells me she was thinking about the time when Dayan lost his eye in World War II. "He had terrible pains, both in his eye and in his nose, which was almost torn out. Our children, apart from Yula (Yael), who was two years old at the time, never actually saw their father with two eyes. The time we spent in a hospital in Paris, without knowing a single word in French, wasn't easy either."

I go on and ask why her name hasn't been linked to any other man since she left him. "Heaven forbid!" she shouts. "I had one relationship and it was more than enough. I always worked. Work filled my entire world and I always had a lot of friends around me. I founded Maskit and I traveled across the entire world to promote Maskit."

Who do you miss?

"Assi. I miss him so much. It's such a shame he's gone. But I have two other children, Yael and Udi, and 10 grandchildren and 12 great grandchildren."

Are you afraid of dying?

"No, I have no fear of death. I'm not praying for death either, but just between the two of us, let me remind you that I'm 100 years old and dying isn't something unreasonable. I hope I go to sleep and don't wake up. Without hospitals and without suffering."

And what's your secret for longevity with such a clear mind?

"To think positive. And most importantly, genetics."