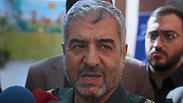 IRGC Commander Maj.-Gen. Jafari
Photo: AP
Iran says no need to increase missile range as can already hit US forces
IRGC Commander Jafari says Iran has no need to increase the range of its missile program, as it can already hit US assets in the Middle-East, including Israel; restriction on missile range set by Supreme Leader Khamenei; cautioning against further US sanctions, Jafari says they 'would only increase number, precision of Iranian missiles.'
Iran has no need to increase the range of its ballistic missiles as they could already reach US forces stationed in the region, the head of the Revolutionary Guards said on Tuesday.

As President Donald Trump seeks to impose new sanctions against Iran's missile program, Major-General Mohammad Ali Jafari said "sanctions would only increase number of Iranian missiles, and their precision."

Earlier this month, Trump refused to certify Tehran's compliance with a deal struck with world powers to curb its nuclear program in return for lifting most international sanctions.

The US House of Representatives voted last week for new sanctions on Iran's ballistic missile program and Trump has urged US allies to join Washington in taking strong action to curb "Iran's continued dangerous and destabilizing behavior", including sanctions targeting its missile development.

"Our missiles' range is 2,000 kilometers (1,200 miles), and that can be increased, but we believe this range is enough for the Islamic Republic as most of the US forces and most of their interests in the region are within this range," Jafari was quoted as saying by Tasnim news agency.

The restriction on the missiles' range came straight from Iran's supreme leader, Jafari said Tuesday.

The comments on Ayatollah Ali Khamenei's orders appear to be an effort by Iranian authorities to contrast their missile program, which they often describe as being for defensive purposes, against those of countries like North Korea, which poses a threat to the United States.

Speaking on the sidelines of a conference in Tehran, Jafari told journalists that the capability of Iran's ballistic missiles is "enough for now."

The Guard runs Iran's missile program, answering only to Khamenei.

"Today, the range of our missiles, as the policies of Iran's supreme leader dictate, are limited to 2,000 kilometers, even though we are capable of increasing this range," he said. "Americans, their forces and their interests are situated within a 2,000-kilometer radius around us and we are able to respond to any possible desperate attack by them."

However, Jafari said he didn't believe there would be war between Iran and the US.

"They know that if they begin a war between Iran and the United States, they will definitely be the main losers and their victory will by no means be guaranteed," he said. "Therefore, they won't start a war."

By limiting their range, Iran can contrast itself with North Korea, as Pyongyang has tested developmental intercontinental ballistic missiles that could potentially reach the US mainland and conducted its most powerful nuclear test to date. Pyongyang also flew two powerful new midrange missiles over Japan, between threats to fire the same weapons toward Guam, a US Pacific territory and military hub.

"Americans are trying to impose new sanctions against the Revolutionary Guards for its missile program, but that is an excuse to harm Iran's economy," Jafari said.

Iran has one of the Middle East's largest missile programs and some of its precision-guided missiles have the range to strike Israel.

The United States says Iran's missile program is a breach of international law because the missiles could carry nuclear warheads in the future.

Iran denies it is seeking nuclear weapons and says its nuclear program is for civilian uses only.

The Associated Press contributed to this report.