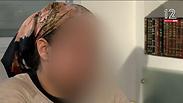 Former PMR employee Raban
Photo: Channel 2 News
Fmr. PMR employee: 'I feared Mrs. Netanyahu would hit me'
Shira Raban recounts experiences working for Sara Netanyahu; 'She called me lump of nothing, I fled like my life depended on it. I thought she'd hit me,' Raban says; Netanyahu's attorney: 'Raban disparages Mrs. Netanyahu by using recycled fabrications to try to extort funds.'
Shira Raban, the young Haredi woman suing Prime Minister Benjamin Netanyahu's wife Sara for alleged abuse in the workplace, recounted her alleged travails at the Prime Minister's Residence, in one instance sobbing as she describing how Mrs. Netanyahu called her a "lump of nothing."

Speaking to Channel 2 News, Raban also recalled the day after Yom Kippur, her last on the job. "(Mrs. Netanyahu) took issue with the fact that we didn't come in to work on Yom Kippur eve. The day started off on the wrong foot as far as she was concerned, with screams of 'Shira, you can say, 'Yalla, yalla' ('C'mon, c'mon') in your own home'. She shrieked that and started getting closer."

"I didn't leave, I escaped. I escaped like my life depended on it. I don't know what might have happened if I'd stayed there another second longer. Not a minute; another second," she said, adding Mrs. Netanyahu instructed her and the other employees to refrain from conversing while they were working.

"She said if we wanted to talk, we should set an appointment with her. In here it would be stealing and we shouldn't speak amongst ourselves, she said. She ran at us, arms flailing, her entire body flailing, threatening and screaming. Hair pulling, lip biting and saying, 'What I'm about to do, what I'm about to do' with her hands in the air. Anyone facing her is in constant fear of being hit. You just take a step back," Raban recounted.

"She came forward to grab me, or do something else to me and I dared to say, 'I'm afraid of you, what are you going to do?' she told me, 'Excuse me? Did you really just say that? Do you want to get dressed and leave? You won't be working here anymore!' I told her I did and literally started running towards the room I get dressed in. I collected my clothes and other things. I saw her screaming at me from afar, 'Are you really going?'

"I told her I was and kept on running while getting dressed. By that point she must have spoken to everyone downstairs and then I, another employee and a driver stood at the bottom of the stairs with (Mrs. Netanyahu) in the room, putting clothes away. I started bawling and told the driver, 'I'm terrified. She almost hit me, you can't imagine how she was approaching me. I don't know what's about to happen, I didn't do anything. I want a break. I want to leave and get everything that's owed me. I'm a human being, not a robot.' I was crying and shivering, feeling something was going to happen to me. That's it. I simply ran away from that place like my life depended on it."

Raban said her experience with employment at the residence was not dissimilar to other cleaning workers, who suffered the same threats. "There were punishments set for everything. There were punishments and fines. Anyone who broke or ruined something, any article of clothing that was sullied, bedclothes that had a microscopic rip in them—it was all the maid's fault and she had to buy a new item exactly like the old one. If you said you weren't going to buy one, they'd just deduct its cost from your salary," she said.

Raban also said she witnessed another employee once come into work carrying new articles of clothing. When she inquired as to the reason she brought them, the worker responded, "'What can I do? The lady's pantyhose had a ladder in them and I expanded it when I wrung them. So I had to buy her a new one.'

According to Raban, Mrs. Netanyahu used these kinds of examples against other workers to demonstrate obedience and good work.

"One of the times she was brought pantyhose like that, the lady turned to me and said, 'You see how well-behaved she is, Shira? Do you see how she buys whatever I tell her to? And she never argues. She knows she ruined it so she buys new ones. You'll start buying yourself soon.'"

Raban insisted her recollections were not exaggerated. "A woman asked to work for ten hours straight without using the bathroom, without food or water, without drinking from disposable cups, without turning on the light and without taking any days off," is how she described her employment at the residence.
'She won't be screaming next to the prime minister'
"On the day of their flight when I dared ask for a break, she told me, 'How dare you ask for a break when I'm about to take a ten-day trip to Argentina and going to suffer for the State of Israel for ten days?' I tried to appeal to her that I've been there for eight or ten straight hours and needed, pleaded for a break. She said, 'You're arguing, and I'll deduct thirty minutes for arguing.'"

Raban also said she initially brought a sandwich to work with her, but soon realized she wouldn't be given any time to eat it. "The girl working with me briefed me. She said, 'If you don't want to leave here every day feeling like garbage, bring along small things like an energy bar or a candy bar, anything you can take a bite of whenever you have a second when she's getting dressed. Something to keep you going. Because if you don't you'll find yourself a wreck in no time.'"

The former employee then went on to speak about the etiquette Mrs. Netanyahu demanded. "No one could say her name, call her by her name. She could only be called 'the lady.' That's how everyone referred to her. She's so smart, in changing very significantly how she acted towards us whenever the prime minister was around. Even if there was something she really wanted to scream at us about, if he was around she'd simply tell us to go downstairs. She'd never shout, scream or humiliate around him," she claimed.

The event Raban described took place only several weeks ago, after the Labor Court had already accepted the suits of Meni Naftali and Guy Eliyahu and severely criticized the abuse and mistreatment they suffered during their employment at the Netanyahu couple's private residence.

However, the presiding judge at the Jerusalem Labor Court, Eyal Avrahami, criticized the manner in which Raban's attorneys chose to word the statement of claim against the prime minister's wife, with her attorney Oren Gross using the word "slave" to describe Raban's time at the Prime Minister's Residence.

Gross insisted he'd used the term because "When an employee is shouted at and humiliated, like in the 1930s, and screamed at for being short, she's a slave. The statement of claim describes what she went through."
'An utter fabrication,' say the Netanyahu family
Sara Netanyahu and the Netanyahu family's attorney Yossi Cohen commented on Raban's Channel 2 interview. "After suffering an abject defeat in court, Shira Raban and her desperate attorneys continue to disparage Mrs. Netanyahu by using malicious, recycled fabrications and try to dishonestly extort funds. They are absurdly and falsely trying to extort an astronomical sum of a quarter of a million shekels for employment of less than a month at the Prime Minister's Residence, mere hours of which Raban actually spent with Mrs. Netanyahu."

"The court's president determined in no uncertain terms their suit included irrelevant claims and was worded in a disparaging, non-topical fashion strictly for media consumption. The same goes for Raban's false words in the aforementioned interview. The timing of the interview, on the eve of the Labor Court's decision expected (Sunday) is not coincidental. This is another improper attempt to sway the court and to influence the chances of their suit, which is merely political and about the media. We're certain that truth will prevail and justice will be done," Cohen concluded.

Initially, Mrs. Netanyahu's attorneys claimed they were pleased the suit was made against Sara Netanyahu personally, as opposed to the Prime Minister's Office in previous suits, as they saw it as an opportunity to "put an end to the campaign of lies."

However, Mrs. Netanyahu's legal team appeared to be taking a markedly different approach in trying to have her name stricken from the suit, claiming the Prime Minister's Office—not the prime minister's wife—was Raban's employer.

Continuing its statements, the Netanyahu attempted to dispel what it dismissed as myths by citing evidence.

"Despite Shira Raban and her attorneys' attempt at emotional manipulation this evening, following is some evidence of her utter fabrications in addition to the many falsehoods she's attributed to the prime minister's wife," the statement read.

"Firstly, Raban worked for 22 days in total with shifts averaging less than five hours. The suit alleges she washed her hands more than 100 times each day until her skin cracked. That alone took at least 300 minutes, which are equal to five hours. When did she get any work done?

"Secondly, she claims in her suit that in addition to the above she changed clothes dozens of times each day. That takes at least two hours as well, and she did all of that in less than five hours on average? How?

"Thirdly, Raban claims she fled like her life depended on it when Sara Netanyahu tried striking her but had time to change clothes. That's an utter fabrication. Sara Netanyahu never tried hitting her and that aside, who stops to change clothes when they're running for their lives?

"Fourthly, she claimed in her suit she started working on August 27 but in reality only started six days later.

"fifthly, on her first day on the job she worked less than five hours, until three in the afternoon. At night, six hours after she left the Prime Minister's Residence, she texted, 'I'm beat. Working there obliterates the body and health.' This after a five-hour first day. Come on.

"Sixthly, she claimed she was prevented from eating, drinking or going to the bathroom. An utter fabrication. The residence's top-floor employees, and Raban among them, eat, drink and use the first-floor bathrooms whenever they please, just like any of the residence's employees. It's absurd to claim otherwise.

"Seventhly, as the Labor Court's president said, if she felt so bad after one day, why did she carry on working? And why did she go back to a place where she suffered so much?

"These fabrication," it concluded, "are nothing but several examples from the dozens of lies contained in the evil, malicious and absurd suit aimed at hurting the prime minister and his wife. Any person of sound mind can see that these fabrications cannot be taken seriously."

Initially, Mrs. Netanyahu's attorneys claimed they were pleased the suit was made against Sara Netanyahu personally, as opposed to the Prime Minister's Office in previous suits, as they saw it as an opportunity to "put an end to the campaign of lies."

However, Mrs. Netanyahu's legal team appeared to be taking a markedly different approach in trying to have her name stricken from the suit, claiming the Prime Minister's Office—not the prime minister's wife—was Raban's employer.

Attacks against Raban were also waged outside of Cohen and the Netanyahu family's statements. While she requested her face to be blurred during her interview to preserve her identity, journalists close to the prime minister and Netanyahu supporters within the Likud disseminated her undoctored photos and personal details, including in Communications Minister Ayoob Kara's official Whatsapp group.