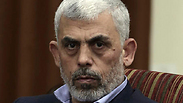 Hamas leader in Gaza Sinwar
Photo: AP
Senior Hamas delegation covertly leaves for Egypt
Delegation led by Hamas leader in Gaza Sinwar and including military wing deputy cmdr. Issa secretly leaves strip for Egypt; Lebanese paper reports party's goal was to discuss possible prisoner swap with Israel; Hamas denies report, claiming delegation left to discuss Palestinian reconciliation.
Hamas's leader in Gaza Yahya Sinwar and deputy commander of the organization's Izz ad-Din al-Qassam Brigades military wing Marwan Issa left the strip covertly for Egypt Friday.

The Lebanese Al Mayadeen news channel initially reported the pair headed south to discuss a possible prisoner swap deal with Israel, but an official announcement made by Hamas Friday claimed the Sinwar-led delegation's aim was to discuss intra-Palestinian reconciliation with Fatah.




The pair's departure to Egypt was made possible despite the fact the Rafah Border Crossing, connecting Gaza with Egypt, is currently closed following the deadly terrorist attack in Sinai and despite early Egyptian plans to reopen in temporarily.

Issa, second in command to Izz ad-Din al-Qassam Brigades commander Mohammed Deif, serves as a link between Hamas's military and political wings.

A similar report of a Hamas delegation arriving to Egypt to discuss a potential prisoner swap with Israel came to light this past July. Sinwar was reported to head the party then, alongside Issa and other senior military wing officials. During the previous jaunt, Hamas's stated goal was to receive hundreds of Palestinian prisoners in return for the Israelis it detained.

The list of prisoners Hamas was said to demand included prominent Palestinian leaders such as Secretary-General of the Popular Front for the Liberation of Palestine Ahmad Sa'adat and Fatah Central Committee member Marwan Barghouti, Al-Hayyat estimated then.

Hamas holds the bodies of First Sergeant Oron Shaul and Lieutenant Hadar Goldin killed during Operation Protective Edge, as well as Abera Mengistu, a mentally ill young man from Ashkelon who crossed the border into Gaza three years ago, on September 7, 2014.