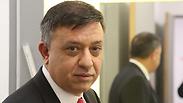 Avi Gabbay
Photo: Avi Moalem
Gabbay slams Likud over mounting corruption scandals
Following the surge of recent allegations, investigations and indictments against members of the Likud, Zionist Union Chairman Avi Gabbay lambastes the right-wing party for what he claims is systematic corruption exemplified and encouraged by Prime Minister Netanyahu.
Zionist Union Chairman Avi Gabbay attacked the Likud over recent probes and allegations against their top officials, among them Ambassador to the UN Danny Danon, coalition chairman David Bitan and Prime Minister Benjamin Netanyahu.

"The real story is not Bitan, the real story is a culture of corruption led by this government. This is a party that is all corrupt," Gabbay said Tuesday morning in an interview with Ynet.

Gabbay panned Netanyahu for not "immediately telling Danon to board a flight to Israel" after State Attorney Shai Nitzan instructed the Israel Police on Monday to examine the allegations that the representative used public funds and donations to pay millions of shekels in "salaries" to dozens of Likud activists and their families in return for supporting him in the party's primaries.

"The prime minister basically says 'it's okay'" Gabbay asserted, criticizing the premier's inaction on the matter.

Speaking on police investigations, Gabbay segued to the corruption probe against MK Bitan over his alleged tender fixing and again criticized Netanyahu's indifference.

"I think that in such a case of a police investigation, there is definitely room for the prime minister to ask himself—is this the chairman I want for the coalition?" he pondered.

"The prime minister must send a message against corruption. To this day he only sent messages of fighting those who fight corruption."

Gabbay concluded by slamming the coalition, saying it "is not functioning and the public is paying this price," and offered the recent crises in the government surrounding the Shabbat as an example.

"I am always in favor of dialogue, but I am also in favor of knowing how to stand up for ourselves," he said, objecting to the coalition's concessions to the Haredi parties and the agreement to stop construction works on Shabbat.

"We live in a modern age. Maintenance works need to be done on Shabbat and there's no way around it, there is no other way to run a state," he said.

The Likud responded by rebuking the chairman over his purported hypocrisy.

"Avi Gabbay is throwing stones at the Likud from inside his glass house," the party stated, explaining that "just this month, the State Prosecutor's Office decided to indict Shimon Batat, the campaign manager of Isaac Herzog, for party funding offenses.

"Gabbay never once called for the dismissal of Herzog from the leadership of the opposition, so he should refrain from lecturing us. The sanctimoniousness of Avi Gabbay, who should know be closely familiar with police investigators after sitting in house arrest for five days, is a pathetic celebration of hypocrisy that the public does not buy into."