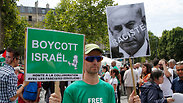 BDS activists in Paris
Photo: AP
Government creates joint program for rapid BDS response
Israeli government joins hands with Diaspora Jewry to combat delegitimization of Israel in the world; Strategic Affairs Minister Erdan promotes decision to create 'PR commando unit'—similar to 'Birthright Israel' project—enabling to provide rapid response to anti-Israeli attacks; 'Imagine Lorde was hit with a viral campaign the same day she announced her show's cancelation,' says source close to program.
The government has decided Thursday to ramp up its efforts to fight the widespread international delegitimization campaign against Israel, with Minister of Strategic Affairs and Information Gilad Erdan pushing through cabinet a decision to create a shared civil-governmental entity to provide a speedy, coordinated response to any attempt to sully Israel's image on the world stage.

As part of the plan, at least NIS 260 million will be allocated to create a public-benefit corporation to improve Israel's image abroad. The joint model the plan's promulgators wish to emulate is that of civil projects such as "Birthright Israel" and "Masa Israel Journey", which work to strengthen the bonds between Diaspora Jewry and Israel in coordination with the government.

The project will be managed by a joint steering committee, presided over by both government representatives and representatives of the Jewish donors who will finance the plan.

A previous youth leadership program with the same goal (צילום: ירון שרון, צילום מספרד: באדיבות שגרירים צעירים)

The decision was disseminated among the coalition's ministers a week ago and entered into force Thursday as no objections were voiced. The decision authorized the creation of a "civil infrastructure to assist and be used by the State of Israel and the pro-Israeli community in combating the delegitimization campaign against the country."

Financing for the program will be divided between sums from the state's coffers and donations from Jewish leaders and organizations from abroad.

On the one hand, the Ministry for Strategic Affairs will budget the project with an initial NIS 128 million investment spread out over several years. On the other, Jewish philanthropists with which Israel will draw up contracts—ten of the world's richest people as of this writing—have already given their word to donate at least a matching sum.

The government's planned investment of NIS 128 million, then, will be matched by at least NIS 128 million more from the Jewish donors. The philanthropists have also said they will consider doubling or tripling the donated funds.

The project's aim is to shore up the state's own PR efforts through a civil society body capable of providing a better response to the efforts of the Boycott, Divestment and Sanctions (BDS) campaign, which themselves often stem from non-governmental bodies and international personas such as singer Roger Waters.

The project is intended to carry out its mission with the greatest of urgency during moments of crisis such as military operations, terror attacks or anti-Israeli votes in the United Nations, and will include such varied tools as public campaigns, lobbying, bringing delegation of public opinion shapers to Israel, an extensive new media presence and communications with other pro-Israeli organizations abroad, mostly in Europe.

The main goal behind the plan is to provide Israel with the flexibility and rapid response that simply do not exist in governmental or state bodies due to bureaucratic constraints. However, the new body will nevertheless still be subject to oversight by governmental accountancy and legal advisory bodies.

"Imagine that right after Lorde announced she was canceling her Israeli show, she was hit that same day with a viral campaign in websites all over the world and full-page ads in all major world newspapers," explained a political source with knowledge of the new initiative. "That's something the official State of Israel could not have achieved."

The Ministry of Strategic Affairs, which formulated the program, said Israel boycott organizations were well coordinated and financed and that in turn, Israel needed to "step up" its own efforts and operate a similar body capable of meeting them "on their own terms."

"The boycott campaign tries its best to blacken Israel's image in the world and isolate it. Billions of people are exposed to incitement and untruthful propaganda that undermines Israel's legitimacy as a Jewish state and the moral justification for its existence," Erdan explained. "A joint response from the government and pro-Israeli organizations will be a significant force multiplier to the government's own efforts and will assist us in turning back the tide of BDS and defeat it."