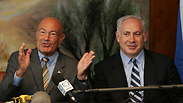 Milchan (L) with Netanyahu
Photo: Getty Images
Hadas Klein, the personal assistant of Arnon Milchan, testified this week in the Case 100 investigation concerning alleged illicit gifts received by the Netanyahu family.

Channel 2 reported Thursday evening that Klein and other aides of Milchan were asked by Sara Netanyahu to place the gifts in dark, sealed bags so they cannot be seen.

According to the report, Klein testified that Sara Netanyahu was very nervous and behaved in a very systematic fashion during the gift transfers. She asked that the bags be completely sealed.

Owing to her connections with businessmen Arnon Milchan and James Packer, Hadas Klein developed a relationship with the Netanyahu's and her testimony is central to the case. Her testimony is considered reliable and is not suspected of any wrongdoing, as she only handled the practical matters related to the gifts.

At an earlier testimony session last November, Klein described to investigators the strange requests received from the Netanyahu residence. When there was a leak in the house, "Sara shouted at me… Netanyahu wanted a building inspector who worked with Packer and Milchan to advise the relevant members of the Prime Minister's Office on how best to handle the matter."

When she did not authorize the request, Sara shouted at Klein saying that she is "embarrassing her and Bibi by not authorizing matters that are purportedly permitted."

"After a few hours, Netanyahu himself called and said that what Packer and Milchan are doing to his wife is not ok; they must understand what she goes through in the media and that the matter was cleared by the Attorney General," said Klein.

Klein spoke about the relationship between Milchan and the Netanyahu's. "Sara was afraid of being recorded. She asked to speak only by landline or meet face to face. She shouted at me many times regarding gifts."

Regarding payments, Klein said that Milchan and Packer divided up the cost between themselves. She also described how the Netanyahu's made use of the Packer home and pool and asked the caretakers to prepare food for them.

The Prime Minister's Spokesman responded to the report calling it false and ridiculous and accused Channel 2 of "leading a campaign of gossip and slander against the Prime Minister and his family with the goal of replacing the Prime Minister with an obedient candidate who will safeguard the monopoly they have in news reporting."