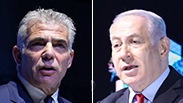 Lapid (L) and Netanyahu
Photo: Motti Kimchi
Yesh Atid Chairman MK Yair Lapid returned fire after being assailed by members of the coalition over his role as a main witness in the Case 1000 investigation against Prime Minister Benjamin Netanyahu, which the police recommended Tuesday he should be indicted for on charges of bribery, fraud and breach of trust.

Lapid attacked coalition members who "dared to say" he should have remained quiet and not divulge information to the police regarding the investigation, asserting that "is how criminals talk."


"A few months ago, the police summoned me to come and give evidence in case 1000. Like every law-abiding citizen who is asked to help the police investigate the truth, I went and answered every question they asked me," he said simply.

Case 1000 concerns illicit gifts Netanyahu allegedly received from business moguls Arnon Milchan and James Packer.

Lapid noted that despite Netanyahu's pressure, he refused to extend tax benefits for returning residents to over 10 years, something the police estimated would have saved Milchan millions of dollars.

As for the personal attacks on his character, Lapid stood his ground, telling MKs and ministers who lambasted him to refrain from making threats.

"You cannot threaten us. We will not let you lead this country to a place where honest people are afraid to tell the truth," he said.

"This situation does not make me happy. Like the prime minister, I would have preferred to run against him at the polls," Lapid stressed. "It is a sad day for every citizen when a prime minister in Israel is accused of serious criminal offenses.

"At the same time, the prime minister must show national responsibility. You cannot be prime minister, foreign minister and health minister, while you spend most of your time with your lawyers and reacting to the media. You cannot represent us in the world when every foreign leader you meet knows that you are accused of serious crimes.

"For the benefit of Israel's citizens, the prime minister must leave his post."

Lapid then called on Attorney General Avichai Mandelblit to "expedite the decision as to whether or not to file an indictment," to bring this affair to a close as quickly as possible.

In response, the Likud told Lapid to "stop whining and trying to divert attention from a simple question: How, as finance minister, did he hold working meetings with his close friend and former employer, Arnon Milchan, and why was he not questioned under warning about it?"

Earlier Wednesday, Coalition Chairman MK David Amsalem continued his acrimonious attack on Lapid, calling him a "pitiful snitch."

"When I was a child they taught me—'Dudi (his nickname—ed), don't be a tattletale," he said in the Knesset plenum, addressing Lapid. "No one will ever want to sit with you, you are a pitiful snitch."