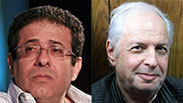 Yeshua and Elovitch
Photo: Yaron Brener
Walla! CEO tells police: Elovitch is a crime family
Ilan Yeshua, the CEO of Walla! News, tells police: 'Elovitch said he wanted to make Walla! News a national-right website. That is a lie. It was allowed to write things against the right wing, Likud ministers, Lieberman and everyone else. Just not against Bibi, Sara and son Yair.'
Walla! News CEO Ilan Yeshua has reportedly told police that Bezeq majority shareholder Shaul Elovitch "looks nice and smiley, but the Elovitch family is a crime family," Channel 2 News reporter Amnon Abramovich reported on Friday.

Yeshua gave testimony this week in Case 4000, a corruption probe into suspicions Elovitch and Prime Minister Benjamin Netanyahu had a quid pro quo relationship in which Bezeq enjoyed regulatory benefits, while the prime minister and his family received flattering coverage on Walla! News, a website owned entirely by Bezeq.

"I was in severe personal and professional distress at the end of 2015," Yeshua told police. "I turned to attorney Eyal Rosovsky, who has been accompanying me ever since. Later I started documenting the requests and pressure from Shaul Elovitch and his wife Iris."

Yeshua provided investigators with recordings of some of his conversations with Elovitch, in which the Bezeq owner is heard pressing him for changes in coverage of the Netanyahu family. These recordings led to a breakthrough in the case.

"Elovitch said he wanted to make Walla! News a national-right website. That is a lie. At times there were instructions to attack Naftali Bennett, demands to really go after Bennett hard. It was allowed to write things against the right wing and Likud ministers and Lieberman and everyone else. Just not against Bibi, Sara and son Yair," Yeshua said, referring to the prime minister by his nickname.

According to Yeshua, he decided to cut ties with the Elovitch family around the end of 2016. "To limit myself and limit the site, I recruited, on my own, independent and serious journalists: Ya'akov Eilon, Aviram Elad and Oren Nahari," he said. "In 2017, he (Elovitch) tried to have the board of directors dismiss me. He couldn't reveal the true reason (the Netanyahu family). I presented a business and professional plan that convinced the board."

Channel 10 News reported on Friday that police have WhatsApp chats between the prime minister's wife, Sara Netanyahu, and Elovitch's wife Iris, who is also under arrest.

According to the report, the chat transcripts show Mrs. Netanyahu rebuking Mrs. Elovitch because Walla! News editor-in-chief Aviram Elad was not fired after another article she did not like.

"This can't continue like this, I thought we had talked about this. This is going on for too long. Why do I need to read such things on your website? Do something about it," Sara Netanyahu wrote to Iris Elovitch.

The Elovich couple's remand has been extended until Monday.

Nir Hefetz, the Netanyahu family's former media adviser, will also remain under arrest until Monday. He is a suspect in both Case 4000 and in Case 1270, in which he allegedly offered Judge Hila Gerstel the attorney general's position in return for closing a case against Sara Netanyahu.