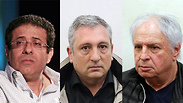 L-R: Ilan Yeshua, Nir Hefetz and Shaul Elovitch
Photo: Orel Cohen, Amit Sha'al and Motti Kimchi
Report: Walla! chief's recordings convinced AG to launch Bezeq probe
Recordings provided by Walla! News CEO Ilan Yeshua to Securities Authority convinced AG Mandelblit to give go-ahead to police to also investigate Bezeq case; recordings reportedly show blatant instruction by Bezeq majority shareholder Shaul Elovitch to sway news coverage in PM Netanyahu's favor.
Recordings provided by Walla! News CEO Ilan Yeshua to the Israel Securities Authority during the Bezeq investigation reportedly convinced Attorney General Avichai Mandelblit to order the police to undertake its own inquiry into the matter, according to a Channel 10 News report Thursday.

The joint police-Securities Authority investigation led to a series of arrests earlier this week, as well as to suspended Communications Ministry director-general Shlomo Filber signing a state's witness agreement to testify against his benefactor Prime Minister Benjamin Netanyahu.

Channel 10 News reported Thursday evening that Attorney General Mandelblit was extremely hesitant about opening a police investigation into the affair, but was convinced by Yeshua's recordings—dubbed "golden evidence." The recordings led to the interrogation of Prime Minister Netanyahu's former media adviser Nir Hefetz.

Yeshua recorded conversations in which he spoke about the meaning of his interference in editing articles going up on Walla! News. He was called in for questioning at the Securities Authority and investigators quickly realized he was cooperative and was willing to divulge how Shaul Elovitch, majority shareholder of Bezeq—which owns Walla! News—provided him instruction on engineering articles to present the Netanyahu family in a flattering light.

The Elovitch recordings provided the breakthrough in the investigation of Case 4000, in which the police are looking into suspicions that Elovitch and Bezeq received regulatory benefits from the Communications Ministry in return for the favorable coverage.

Yeshua also told investigators he had realized the pressure was inappropriate and began recording his conversations with Elovitch. The first recording he played them had Elovitch issuing the explicit order.

The recordings clearly showed an attempt to sway Walla! News coverage by censoring negative content and promoting more positive one. Elovitch was heard telling Yeshua, according to the Channel 10 report, that the more positive coverage will change Bezeq's fortunes as well as its interests.
Filber: 'Glad to come full circle'
A law enforcement source said that the recordings "were one of the main things that broke down Shlomo Filber's resistance and led to the state's witness agreement," after Filber realized what had been taking place behind his back while he provided Elovitch with benefits as the Communications Ministry director-general.

The source added that after his decision to cooperate with the police, Filber shook hands with the ISA investigators, with whom he was familiar from his previous interrogations, and said: "I'm glad to come full circle with you."

Meanwhile Wednesday, Yeshua was forced to confront Elovitch and Nir Hefetz, Netanyahu's former media adviser, as part of the ongoing corruption investigation.

Yeshua claimed that Hefetz was the mediator in the Prime Minister's Office and that Elovitch asked him to be in contact with him.

Police investigators brought Elovitch into the interrogation room and asked Yeshua, among other things, to repeat his testimony, according to which Elovitch gave the explicit order to portray the Netanyahu family in a more positive light.

During the exchange, police presented Hefetz with the claims that Yeshua had made in his testimony and asked him if they were true.

"Everything I have to say I answered you in the open testimony," he responded in the Lahav 443 fraud investigation unit in Lod to investigators from the Israel Police and Securities Authority.

Hefetz was remanded until Monday (צילום: אבי חי)

Police investigators said during Hefetz's remand hearing that he was keeping silent and being uncooperative. Hefetz himself complained to the judge about the conditions of his detainment, complaining about such things as flea bites.

Hefetz, who was allegedly involved in the Bezeq affair, is also suspected of trying to bribe former District Court Chief Judge Hila Gerstel into tossing out an investigation against Sara Netanyahu in return for being appointed attorney general. Hefetz will remain in custody until Monday for his part in both affairs.

Doron Herman of Channel 10 News reported that state's witness Shlomo Filber's testimony may embroil Netanyahu confidant Natan Eshel in the affair as well. Eshel is considered one of the people closest to the prime minister and was allegedly involved in Walla! News's sale, and possibly in other matters as well.

The latest developments in the case have opened up a can of worms for the beleaguered prime minister, around whom questions are now being raised about his relations with other officials in the media.

Yair Tarchitsky, who heads the Union of Journalists in Israel (UJI), submitted on Thursday to the Lahav 443 fraud investigation unit in Lod a complaint against Netanyahu and Filber, demanding that it be investigated whether their successful efforts to close the Israeli Public Broadcasting Corporation last year were intended to make way for a channel that was more favorable in its coverage of Netanyahu.

In the complaint, it was claimed that similar to Case 4000, Netanyahu and Filber appear to have promoted improper moves against the public's interest with the aim of strengthening the premier's grip on the media and ensuring that the coverage was bent to his advantage.

In addition, legal advisors from the UJI, along with other attorneys, implored the High Court of Justice to delay a decision on the appeals that were filed last year regarding the corporation until the conclusion of the relevant police investigations.