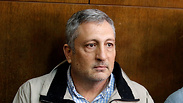 Hefetz: Netanyahu's wife, son could change his mind
Nir Hefetz, the PM's former media adviser, tells investigators Netanyahu would 'cave' after 'Yair would yell at him, and Sara would make a scene,' thus making decisions that 'harmed Israel's national interests and state security'; Netanyahu's associates: 'Hefetz received no security briefings, claims are baseless.'
Nir Hefetz, a former media adviser to Prime Minister Benjamin Netanyahu who signed a state's witness deal to testify against him, told the police that Netanyahu's mind could easily by swayed by his wife and son.

"The decisions being made at the Prime Minister's residence were bizarre. Senior defense officials would make a decision, but then Yair would yell at him, and Sara would make a scene, and he would cave," Hefetz told investigators.

"Bibi, inspired and influenced by his son Yair, showed lack of national responsibility and made decisions that harmed Israel's national interests and state security," Hefetz told his close associates, using the prime minister's nickname.

"Yair also caused damage to his father and to the country; that is why I left there (in October 2017). He simply could not withstand the pressure from his family. I realized the Bibi era has ended; that there was going to be an indictment against him with or without me," he went on to say.

Hefetz alleges the decisions influenced by Netanyahu's son and wife led to the crisis on the Temple Mount after Israel placed metal detectors at the holy site to increase security and the crisis with the Jordanian government following the shooting at the Israeli Embassy in Amman. Both events took place at the end of July 2017, mere months before Hefetz left his position as the Netanyahu family's spokesperson.

When signing the state's witness deal, Hefetz provided police with all of the information in his possession, including text messages.

As part of the agreement, Hefetz is expected to incriminate Netanyahu both in the illicit gifts affair (Case 1000) and in the Bezeq affair (Case 4000). He will also testify in Case 1270, an attempt to bribe District Court President judge Hila Gerstel with appointment to attorney general in return for tossing out a case against the prime minister's wife, Sara Netanyahu.

Hefetz reportedly claims Netanyahu was "aware of everything" surrounding the Bezeq corruption affair. "We'd sit in the living room, and Sara would yell at me while Bibi was present, 'Why are such unflattering stories and photos published on Walla! News, after everything we've given them?' Bibi would sit there and say nothing," Hefetz told his close associates.

Hefetz also told associates that Arnon Milchan, the billionaire suspected of bribing the prime minister in Case 1000, "received additional benefits from Netanyahu. Things you still don't know."

News of Hefetz's deal only broke out on Monday, but police investigators had reportedly already known he was about to become a state's witness on Friday and even confronted Netanyahu with some of Hefetz's testimony when he was questioned.

While in the past, Hefetz said he loved Netanyahu and considered him a "great leader," in recent days he has changed his tune. "Bibi delayed his questioning for days," Hefetz said. "He knew I was sitting in jail because of him; that I was being held under hard conditions until he would be so kind as to be questioned. He didn't care."

A statement on behalf of the prime minister dismissed Hefetz's testimony, saying "The comments attributed to Nir Hefetz concerning Sara and Yair Netanyahu are nonsense. For over 7 years now, Nir Hefetz has been entirely excluded from receiving any intelligence, diplomatic or security information and from the decision-making on these matters. Therefore, the claims attributed to him are baseless."

Netanyahu's close associates later attacked Hefetz again, saying that "The top intelligence briefing Nir Hefetz received was the information about the health of Kaia," the Netanyahu family dog, which recently died.

Hefetz, whose deal grants him full immunity from prosecution, joins two other close associates of the prime minister who turned against him—Netanyahu's former chief of staff Ari Harow and the suspended director-general of the Communications Ministry Shlomo Filber.

Hefetz's attorney, Yaron Kostelitz, announced his resignation following the dramatic development.

Netanyahu's associates offered the following response to news of Hefetz become a state's witness: "When there is something, there is no need for a single state's witness. When there's nothing, even a thousand state's witnesses won't help. The unstoppable pursuit of state's witnesses is the best proof that there is nothing and there will be nothing."

Hefetz was arrested about two weeks ago on suspicion of taking a bribe and obstruction of justice. One of the court hearings revealed he had already provided the ISA with a detailed testimony in late December and was asked about his ties to Shlomo Filber and Shaul Elovitch, the controlling shareholder of the Bezeq telecommunications company.

Police suspect that Bezeq received benefits worth about NIS 1 billion from the Communications Ministry in return to favorable coverage of Netanyahu and his family in the Walla! website, which is owned by Elovitch.

In recent years, Hefetz has been considered one of the confidants of Netanyahu and his wife Sara, often defending the family to the media. He served as the family's media advisor from 2014 to 2017, working primarily with the prime minister's wife.

During that period, State Comptroller Yosef Shapira uncovered irregularities in the administration of the Prime Minister's Residence, leading police to launch a criminal investigation.

Hefetz was one of the six people questioned simultaneously in the Bezeq affair on Friday, along with Prime Minster Netanyahu and his wife Sara, Elovitch and his wife Iris, and Eitan Tzafrir, a former chief of staff at the Communications Ministry.