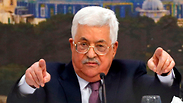 Abbas slams US envoy to Israel as a 'son of a dog'
Scathing remarks come as PA president blames Hamas for failed assassination of PM Rami Hamdallah in Gaza and announces intention to take 'national, legal and economic steps' against the strip; says he's uninterested in receiving information on the investigation from Hamas.
Palestinian Authority (PA) President Mahmoud Abbas on Monday called the US ambassador to Israel, David Friedman a 'son of a dog' and slammed him and his family as "settlers."

His scathing comments came after Abbas blamed the Hamas terror group for the March 13 bomb attack on the convoy of Prime Minister Rami Hamdallah in Gaza, saying it was a "despicable and sinful act."

"The US is lending legitimacy to settlements. That is what senior American officials have done who are led by their ambassador in Tel Aviv, David Friedman. He said: 'They are building on their land.' You son of a dog. They're building on their land? He himself is a settler and his family are settlers," Abbas scathed.

He also launched into another tirade against the US decision last December to recognize Jerusalem as Israel's capital, reserving harsh insults for US President Donald Trump's ambassador to Israel.

Shortly after, Friedman responded to the invective, implying that Abbas's comments may have been anti-Semitic.

"Three Jews were murdered in cold blood and and the response of the Palestinian Authority was silence. Abbas chose to respond, I saw his response on my iPhone a few minutes ago. His response was to refer to me as son of a dog. Anti-Semitism or political discourse? Not for me to judge, I leave that all up to you," Friedman said at the 6th Global Forum for Combating Antisemitism.

Earlier, the US ambassador to Israel tweeted about recent terror attacks involving Adiel Kolman and the two IDF soldiers murdered in a car-ramming attack on Friday.

"Tragedy in Israel. 2 young soldiers, Netanel Kahalani and Ziv Daos, murdered in the North, and father of 4, Adiel Kolman, murdered in Jerusalem, by Palestinian terrorists. Such brutality and no condemnation from the PA! I pray for the families and the wounded – so much sadness," he wrote.

Prime Minister Benjamin Netanyahu responded to the Palestinian president's invective as well, saying, "Abbas lashing out at US Ambassador Friedman says it all. For the first time in decades, the American administration stopped indulging Palestinian leaders and told them that, 'Enough is enough.'

"The shock must have caused them to lose their wits."

Education Minister and Bayit Yehudi leader Naftali Bennett was also quick to defend Friedman, describing him as a true friend of Israel.

"David, after just a year in your job, it can already be said that you will be recorded in Israel's history book as a friend—a true friend of the state of Israel," Bennett said.

In his speech, Abbas went on to accuse Israel, the US and Hamas for staging a 2007 coup in Gaza. "Hamas leader Yahya Sinwar told us in a conversation in Cairo that 'if we had four tunnels, they would become 100 and if we had rockets they would become thousands of rockets. That which is above ground in Gaza belongs to the government and that which is below ground belongs to Hamas,'" Abbas claimed.

Hamdallah and Palestinian security chief Majid Faraj were uninjured when a roadside bomb exploded as they entered the Gaza Strip on their way to a ceremony in the enclave that is dominated by the Hamas faction and is a rival of Abbas's Fatah faction.

"We give congratulations to the two big brothers (Hamdallah and Faraj) that they are safe after the sinful and despicable attack that was carried out against them by the Hamas movement in the Gaza Strip," Abbas said in a speech in Ramallah.

Abbas went further and called for the imposition of new sanctions on the Gaza Strip. "I have decided to take national, legal and economic steps against the Gaza Strip for the protection of the national project," Abbas announced.

He also asserted that had the assassination attempt succeeded, Palestinians would have been on the brink of a bloody civil war, and stressed that he had no interest in receiving information on the investigation into the matter from the Hamas security apparatus.

Abbas also hinted that the bombing threatened the durability of the recently-signed reconciliation agreement between Hamas and the PA.

"If all responsibility, including security responsibility, is in our hands, we will take responsibility for Gaza. If responsibility is not in our hands—meaning only civil responsibility and not security—Hamas can take full responsibility."

Shortly beforehand, Palestinian political parties in Gaza met with Hamas, who called upon Abbas to visit the strip and participate in an investigation into the assassination.