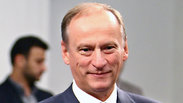 Secretary of Russia's Security Council Patrushev
Photo: EPA
Russian SC chief meets Israeli, Iranian counterparts
Moscow's Security Council head convenes with Israeli, Iranian colleagues separately in Sochi to discuss 'Middle East developments'; Russian ambassador to Israel says country always takes into accounts Israeli concerns, interests, adds no decision made as yet on sale of S-300 defense systems to Syria; 'Both Israel and Iran should exercise restraint,' he advises.
Secretary of Russia's Security Council Nikolai Patrushev met separately on Tuesday with his Israeli and Iranian counterparts—Eytan Ben-David and Ali Shamkhani.

According to an official Security Council statement, the meetings were held in the Russian resort town of Sochi, and Patrushev discussed "Middle East developments" with the two officials.

The Russian chief visited Israel this past January, and reportedhe had tried to prevent harm from coming to Iranian installations in Syria.




Earlier Wednesday, the outgoing Russian Ambassador to Israel, Alexander Shein, expressed concern in an interview with Ynet at recent actions in Syria that have been attributed to Israel, while voicing his sympathy for Israel's own concerns at the goings-on in its neighboring country.

As to Israel's fears at the ever-growing Iranian presence in Syria, especially following recent Iranian threats to destroy Israel, the ambassador said, "Russia constantly takes into account Israel's concerns and interests vis-à-vis preserving its national security."

"We are, of course, concerned with the state in which the bilateral relations between Israel and Iran are in, in light of mutual threats and rejection by both countries," he added. "We must also be concerned with Iran's presence in Syria now. It may lead to a worsening of the situation and a conflagration in the entire Middle East."

The ambassador then called for both sides to exercise immediate restraint.

Shein was then asked on the possible sale of the S-300 missile defense system to Syria and the prospects of a deal actually going through. The ambassador evaded the question, merely speaking generally about the defense system and its relevance to recent events.

"The question you're asking about the supply of the S-300 system to Syria has been raised through the years, and again recently in the wake of the belligerent action by the United States, France and Britain against Syria on April 14, when the three countries' air and naval forces fired rocket salvos at Syria," he said.

"In said action, 105 cruise missiles were launched, 71 of which were intercepted by the Syrian army's outmoded aerial defense system. In this context, in order to prevent such aggression from recurring and in light of debates as to the best manner to protect Syria from Western aggression, the question of selling the S-300 system arose."

Echoing statements by his country's Minister of Foreign Affairs Sergey Lavrov, the Russia ambassador noted that "no decision has been made as yet. It isn't even negotiated yet. As far as I know, the question has not been raised."

"Some media outlets artificially disseminate this question, and that is of course premature. I stress that the question, insofar as it has been broached, related strictly to Western aggression against Syria and has nothing to do with Israel," Shein stated.

Asked whether Israel could nonetheless feel safe operating in Syria airspace, Shein said, "We are disinterested in such actions occurring since they exacerbate the situation in Syria and in the region and increase tensions. This does not gel with our efforts, chiefly the attainment of a political settlement of the Syrian conflict."

"We do understand the reasons Israel feels obligated to carry out such actions in the first place, and it would of course be preferable if they were avoided as well," he added.

The diplomat was next confronted with Defense Minister Avigdor Lieberman's threat to destroy Russian defense systems operated from Syria against Israe. "I can't imagine such a scenario," Shein countered. "We have coordination and mutual updates regarding Syria. The two countries' defense ministries are cooperating."

"It is unclear to me what possessed Mr. Lieberman to express thusly. We have not had any incidents with him, nor even the hint of incidents, and I hope we won't have any in the future," he noted.

Lastly, Shein was polled on whether Russia believed US President Donald Trump would truly withdraw from the Iranian nuclear deal. "We cannot rule out such an eventuality despite the fact it will mark a very negative turn of events," he replied.

"When any decision is reached by the US, we will decide how to proceed but Russia has not intentions of following the American lead and withdrawing. We will first see how Iran and other Eastern countries react to such a decision and think of a way to proceed along with China."

Ambassador Shein will be replaced in the near future by Anatoly Victorov, considered a confidant to Russian President Vladimir Putin who possesses little foreign policy or diplomatic experience in the Middle East.