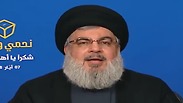 Hezbollah leader Nasrallah
Nasrallah: 'If Israel crosses red line, next strike will be at its heart'
Hezbollah leader comments on Israeli strike in Syria last week and Syrian retaliation, claims 55 Syrian missiles launched, some of them 'heavy', reaching as far as Safed, Tiberias; Israeli home front not ready for war, he adds—a 'well-known Israeli blunder.'
Hezbollah leader Hassan Nasrallah commented on the recent widespread Israeli strikes in Syria—and the Syrian retaliation—alleging that Israel's claims of only 20 missiles being launched from Syria—most of which were intercepted—was false, and that "the truth was that 55 missiles were launched, some of them 'heavy.'"

Speaking Monday evening, Nasrallah also threatened that if Israel "once again crossed red lines, the next strike will be at the very heart of Palestine and not just near the Golan border."

On the matter of the large-scale riots in Gaza Monday, Nasrallah said that the situation there was dire. "People have no money or food. The Gaza Strip is about to turn into Yemen, in the hopes that it will lead to its surrender. The resistance has turned this day into the 'March of Return' and I laud it for that," he said.

The Hezbollah secretary-general also opined that the Israeli home front was "not prepared for war—taking into account shelters, infrastructures or morale. It's a well-known Israeli blunder."

Israel was also lying about the damages caused to it in the operation, Nasrallah claimed, as well as about the number of missiles fired in response and the course of the strike. "Syrian aerial defense missiles reached as far as Safed and Tiberias," the Shiite cleric said, "which forced Israel to intercept them with Patriot missiles."

"Israel has said that the hand that touches the Golan Heights will be severed. That has been proven to be false," he bragged.




"If Israel thinks it can continue attacking in Syria, threatening and doing everything it pleases, it's sorely mistaken," Nasrallah stated. "A retaliation is coming in a time, place and manner to be decided."

"Israel cannot continue attacking and interfering in Syria without ramifications," he concluded.

"Don't listen to Israeli threats," Nasrallah advised. "I'm convinced their words are empty. No one in the region fears war more than Israel."

In general, the Hezbollah chief said, this was a "new period. Israel must take into account a great many things, if it truly does not seek war as it claims—all of which it needs to take into account before deciding to attack."
Nasrallah: Trump's problem is that Iran supports Hezbollah
Nasrallah's speech also touched on US President Donald Trump's withdrawal from the Iran nuclear deal last week, and he noted that "immense pressures were being exerted on Iran in order to shatter its economy and harm it any way possible."

"Trump knows Iran harbors no plans to develop nuclear weapons and well knows it's developing no ballistic missiles, but his problem is that Iran supports Hezbollah, Hamas and the rest of the movements of the resistance," the Lebanese leader claimed.

This past Saturday, Britain-based Syrian Observatory for Human Rights reported that at least 11 Iranians were among those killed in the unprecedented Israeli strikes on Syria this week.

"At least 27 pro-regime fighters were killed" in Thursday's strikes, said Rami Abdel Rahman, director of the Syrian Observatory for Human Rights.

He said "six Syrian soldiers and 21 foreign fighters, including 11 Iranians" were among the dead.
IDF releases footage of Iranian targets hit
The IDF on Friday released aerial footage of the Iranian sites that were targeted in Thursday's retaliatory air strike in Syria, highlighting and identifying the specific targets attacked by the IAF.

As part of Israel's most extensive attack in Syria since the 1974 Yom Kippur War, the IAF bombarded military installations at Tel Gharba, Tel Kleb, Nabi Yusha and Tel Maqdad, as well as a military compound of the Iranian Quds Force in al-Kiswah, according to the IDF Spokesperson's Unit.

The footage published by the army includes overhead images of storage facilities and garages used by Iranian forces during their operations in Syria.

Among the targets attacked by Israel were also pro-Iranian militias close to the border fence between Israel and Syria in the Golan, such as observation posts and aerial defense systems.

Targeted were observation and intelligence collection posts that housed antennas and other measures deployed and operated by pro-Iranian militiamen on the northern portion of the Syrian Golan, which is controlled by Syrian President Bashar Assad's army.

The attack, which the air force named "Operation House of Cards," lasted an hour and a half, during which over 50 Iranian targets were bombed.