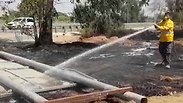 Fire in Gaza border region
Photo: KKL Spokesperson
Eight fires break out in Gaza border region as ceasefire efforts resume
Following arrival of senior Egyptian intelligence officials in the strip for talks with Hamas on possible long-term arrangement with Israel, incendiary balloons start multiple fires in Israeli communities adjacent to security fence; flames are reported to have been extinguished.
Eight fires broke out Saturday in the Gaza border communities as a result of incendiary kites and balloons being launched from the strip into Israel.
Firefighting crews, along with teams from the Nature and Parks Authority and Keren Kayemeth LeIsrael, gained control of the flames, which were later extinguished.
One of the fires started in the Nahal Bohu Park at the entrance to the southern city of Netivot.
The IDF said Saturday that the Israel Air Force (IAF) hit near an incendiary balloon cell in the Gaza strip in response.
On Thursday, an IAF aircraft attacked a terror cell in the northern Gaza that was launching incendiary kites and balloons into Israeli territory.
The strike was carried out in light of violent demonstrations along the southern border, which continued throughout Yom Kippur.
Earlier on Thursday, six fires broke out as a result of incendiary balloons and one fire was started by an incendiary kite. The areas which were affected by the flames are: Kibbutz Nir Am, the Be'eri Forest, the Kisufim Forest and Shokeda Forest.
On Friday, the clashes along the security fence had resumed, with thousands of Gazas massing at several points near the Israeli border.
According to the Palestinian health ministry, one demonstrator was killed by Israeli security forces.
The ongoing Hamas-led border violence comes in light of the arrival of senior Egyptian intelligence officials' delegation in the Gaza Strip on Saturday for a brief visit as part of Egypt's effort to renew talks on a long-term ceasefire arrangement with Israel.
Palestinian sources described the visit as "significant and crucial."
The sources added that "Egypt's main interest is to reach an intra-Palestinian reconciliation in accordance with President Mahmoud Abbas's demand to remain the only Palestinian representative with whom any understanding can be reached regarding Gaza."
However, according to the sources, Hamas wishes to reach an agreement with Israel for the sole purpose of taking credit for a possible lifting of Gaza blockade, while Egypt fears further escalation of hostilities if the agreement is not reached.
"Egypt views the dead end (in ceasefire talks with Israel) as pushing Gaza towards a dangerous military escalation on the border fence.
"Nevertheless, Egypt is not willing to promote calm only to please Hamas since it has bigger international and intra-Arab interests," the sources explained.