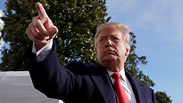 President Donald Trump
Photo: Reuters
The State of Israel couldn't have dreamt of a friendlier president than Donald Trump. For Prime Minister Benjamin Netanyahu, Trump is the manifestation of all his hopes and dreams, especially following the contentious leadership of former president Barack Obama.

At the tail end of the second year of Trump's presidency, we can conclude there are more positives than negatives. For one, Trump moved the US embassy from Tel Aviv to Jerusalem and recognized the historic city as Israel's capital (even though the move is largely symbolic, since not one embassy employee has so far moved from Tel Aviv).

Another positive is Trump's decision to withdraw from Iran nuclear deal and reinstall all US sanctions on the country, reiterating Netanyahu's sentiments that the deal would pave the way for Islamic Republic to build an atomic bomb.

US support for Israel at the United Nations has also been unprecedented. Gone are the days when America looked the other way whenever the Security Council passed another biased, anti-Israeli resolution. The most vivid example of that is Resolution 2234 condemning the Jewish settlements in the West Bank and East Jerusalem, passed on the last dayof Obama's term.

Most importantly, Trump sends a message to the American people and the international community that Israel are the "good guys," which has also helped on the path to normalizing ties with Saudi Arabia.

On the other hand, the new peace plan (aka "the Deal of the Century!") that the US administration has been developing for the past two years is stalling, and that's something that can be interpreted as either positive or negative, depending on your side of the political spectrum. The Trump administration hasn't correctly assessed the damage that the embassy relocation will do to the negotiating process and how little impact the move would have on the international community—so far, only Guatemala has followed in US footsteps.

There's the recently announced withdrawal of US troops from Syria, which is very worrying rning for Israel. According to senior Israeli officials, Trump has essentially thrown the Jewish state under the bus, handing its war-torn northern neighbor country to the Iranians and Russians to do with what they will.

Trump's ambiguous stance on the anti-Semitic white nationalists in the US is also problematic, and so is the rift he's created within the US public, something that only harms Israel in the long term and turns support for the Jewish state to a bipartisan issue.

And there are those who claim that Trump's pro-Israeli rhetoric hasn't translated into action. For instance, Trump hasn't increased the aid package, unlike Obama who has given Israel significantly more money than any other US president, even by Netanyahu's own admission.

The prime minister went on to correct himself once Trump was elected, insisting that the relationship between the two countries has never been better than during the current US administration. But has it?