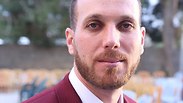 Asem Barghouti , charged with 3 counts of murder
The Judea Military Court charged Asem Barghouti with three counts of murder Monday, following his alleged participation in the Ofra and Givat Assaf drive-by shooting attacks in December.
Barghouti is being charged with the murder of St.-Sgt. Yuval Mor Yosef and Sgt. Yosef Cohen, who were killed in the Givat Assaf shooting, and with the murder of Amiad Israel Ish-Ran — an infant who died four days after he was born during an emergency operation, after his mother was severely wounded in a terror attack near the Ofra settlement.
According to the indictment, Barghouti committed the December 9 shooting attack outside Ofra with the assistance of his brother, wounding seven — including Shira Ish-Ran, whose baby Amiad Israel died several days after his premature delivery. Some four days later, Barghouti executed the Givat Assaf attack, which cost the lives of two IDF soldiers and wounded two others.
Barghouti was arrested on January 8, 2019, in the house of one of the people who assisted him in the two attacks. His brother, Saleh Barghouti, was killed by IDF forces on December 12, in the West Bank town of Surda, north of Ramallah during the manhunt after the first attack.
In total, Israel arrested more than 100 Palestinians during the search for Asem Barghouti.
The Barghouti family home in the West Bank village of Kobar near Ramallah was demolished by IDF forces on March 7 following the brothers' involvement in the Ofra terror attack, after the High Court approved the move.
Israel frequently demolishes Palestinian attackers' homes as a policy aimed at deterring future attacks.