If you come across a small gathering of people watching a araffiti artist perfecting his craft on a street side wall in Israel or in another country somewhere in Europe, there's a fair chance you've just met Benzi Brofman.
The Israeli street artist has never taken any creation of his to an art gallery, and chances are he never will. He doesn't need professional painting surfaces. Any wall, on any street, in any neighborhood - is his canvas. "I can draw with the dust stuck on a windshield," he says.
He was recently spotted in Brick Lane, a graffiti-rich neighborhood in east London. Any Israeli tourists passing by would never assume the man who painted all that hails all the way from Migdal Haemek in northern Israel.
He's often compared to Banksy, a pseudonymous England-based street artist, political activist and film director, whose real name and identity remain unknown. "There's always someone who asks if I'm him, and I have to correct them," Benzi says.
"His style is much more satirical, with epigrams and a very distinct stenciling approach. I'm more realistic in my interpretations."
There are many speculations about Banksy's true identity. Some believe he's the lead vocalist of Massive Attack, an English trip hop collective. Others think it's actually multiple people operating under the same assumed identity. Regardless, Banksy's style is easily recognizable, and has attracted many admirers throughout the world.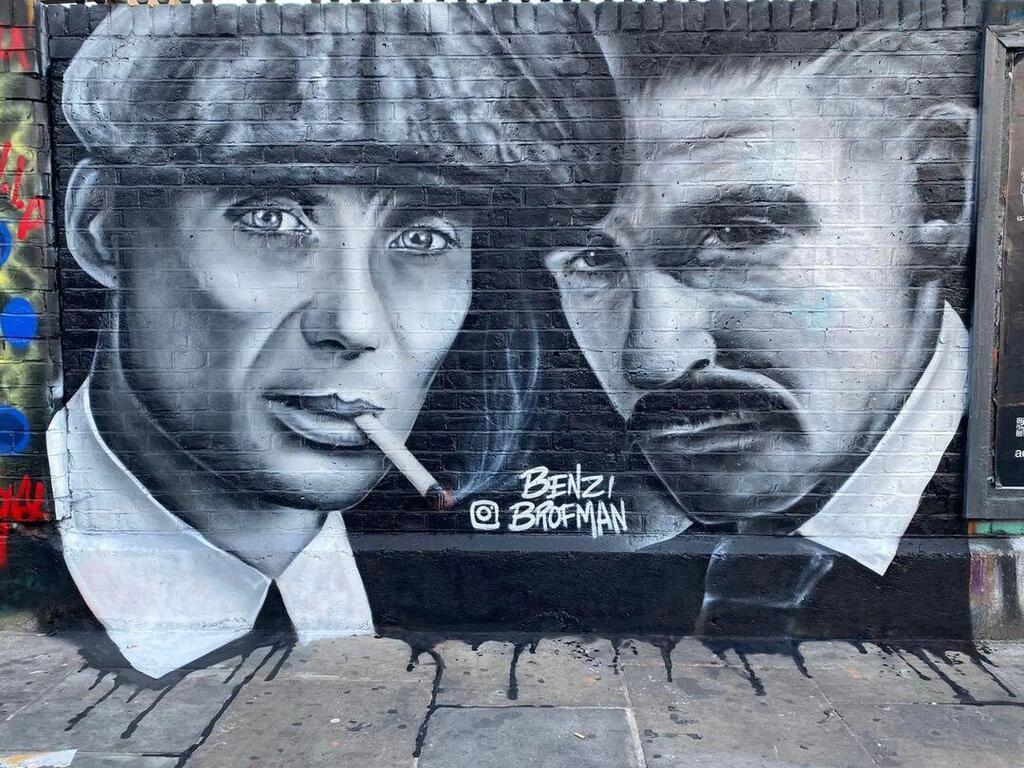 "I once drew on a wall in Kiryat Shmona and an officer pulled up next to me. I thought he was about to scold me, but he actually thought it was really cool and wanted to see the artwork in more places.
"But, I don't draw on people's private property, even if it's discarded and worn out. People come first. Graffiti second."
Benzi, 38, is autodidactic and has never formally studied anything art-related. Not even in high-school. "Every notebook on every subject [in school] began with the promise that this year I'm gonna nail it, but the from the second page onwards it was all drawings."
His paintings can be found all over Israel cities: Tel Aviv, Rishon Lezion, Haifa, Afula, Tiberias, Nesher and Eilat. In Europe, he was also spotted doing some incredible street art in Barcelona, Amsterdam, Vienna and, of course, London.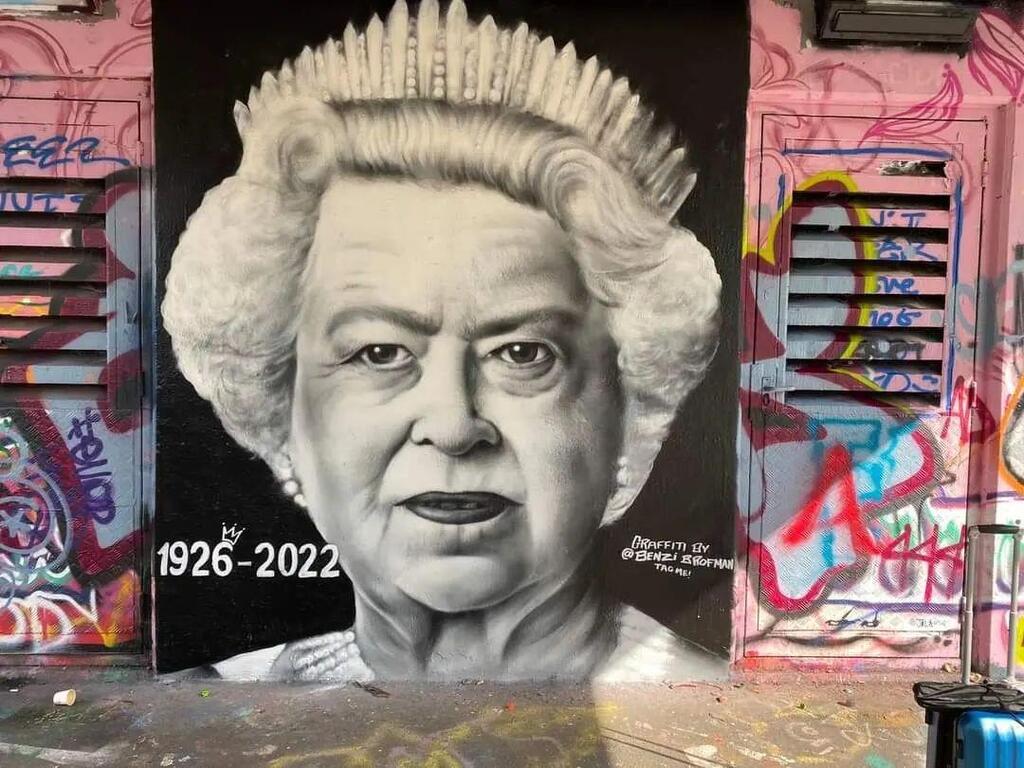 His inspiration is momentary, not pre-ordained or sketched out ahead of time. On top of being a street artist, he also makes a living doing art for businesses and hosting graffiti workshops.
When working, you can usually expect to see him with a filtered mask (paint fumes can be hazardous), spray paints of all colors of the rainbow, a ladder and a small speaker to sound off the music that gets him in the mood to create.
The first stage of the process, deciding what character to draw, takes the longest. "I've been into portraits since I was young. I try to make it contemporary and in line with current events because that gets people talking. It generates public discourse."
So far, he has drawn many Israeli notables, like late singer Arik Einstein, Olympic gold medalist Linoy Ashram and even the late IDF soldier Amit Ben-Yigal. Others include slain Iranian activist Mahsa Amini, whose demise fueled the current Iranian protests all over the Islamic Republic, and even characters from the TV show Peaky Blinders.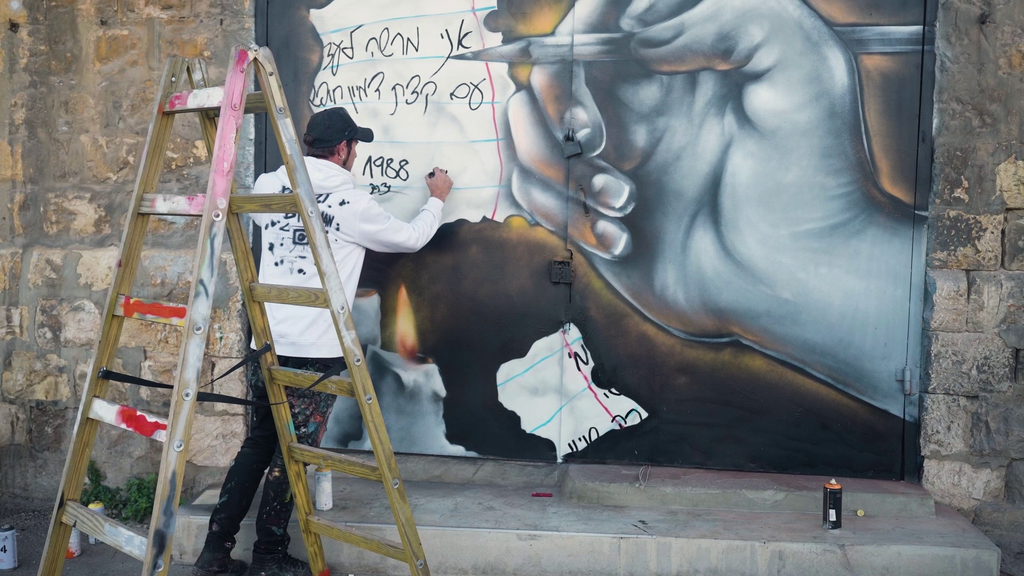 Musical artists like Freddie Mercury, Tupac Shakur, The Beatles and famed rapper Eminem have all seen their portraits drawn by the Israeli talent. "London is my favorite, because there are many walls specifically allocated for graffiti. When Queen Elizabeth died, I drew her portrait on a wall there. Unfortunately, someone drew Daffy Duck on her face the next day."
Another project of his became very popular in Haifa, since it involves many former stars from Maccabi Haifa, one of the country's biggest soccer clubs. "I get plenty of positive feedback from Maccabi fans. I did not do it for money. Maccabi Haifa drawings are my idea. I guess it's about retrieving a passion of mine that I've lost through the years."
All expenses come out of your pocket.
"Some want a new shiny car or a designer bag. When I take my wife on an overseas vacation, she knows one day of it will be dedicated to my art."
Would you like your own gallery one day?
"Not my style. I like working in the street in front of people. I met plenty of friends that way. Studio work would isolate me, and I love interacting with people."