On Tuesday afternoon in the heart of Nazareth, a mural of support for the Iranian people painted by Israeli artist Benzi Brofman was unveiled. This mural marks the first time such a display of support has occurred in an Arab Israeli city.
The mural was part of an ongoing project of Hooman Khalili, an American-Iranian filmmaker, to create murals throughout the State of Israel across diverse communities in support of the people of Iran. From Jewish communities across Israel to Arab communities, Khalili and other organizers of the mural project are doing everything possible to show public support for the people of Iran from the people of Israel.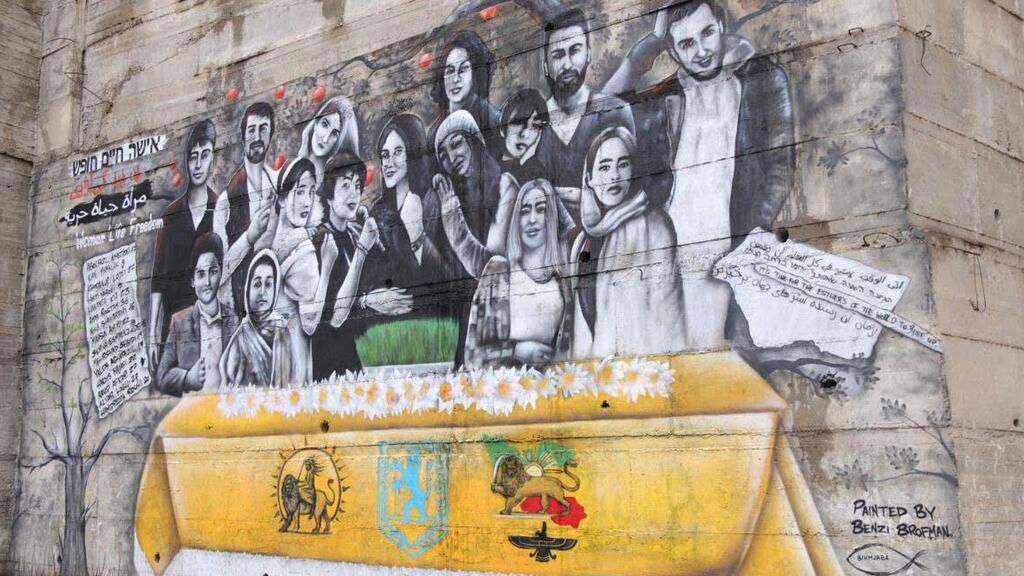 The first mural was unveiled in Jerusalem in the Talpiyot neighborhood last month, and was painted by Israeli Jewish artist Ana Kogan, depicting four of the victims of the Iranian regime including Mahsa Amini, the Kurdish-Iranian 22-year-old whose death at the hands of the morality police set off a nationwide wave of protests and calls for regime change.
The mural in Nazareth depicts 15 victims of the Iranian regime including professional athlete Navid Afkari who was executed by the regime in 2020 for his role in previous protests, as well as 9-year-old Kian Pirfalak, 27-year-old Khodanur Lojei, 16-year-old Nika Shakarami, 22-year-old Mahsa Amini, 19-year-old Mehrshad Shahidi, 22-year-old Hadis Najafi, 20-year-old Hamid Reza Rouhi, 22-year-old Alyar Haghi, 16-year-old Serina Esmaeilzadeh, 19-year-old Yalda Aghafazil, 23-year-old Hananeh Kia, 17-year-old Abolfazl Adinezadeh, 7-year-old Hasti Naroei, and 36-year-old Aida Rostami.
"They remind us of the overwhelming injustice the citizens of Iran face every minute of every day, said Khalili.
Also depicted on the mural is a tree with a living branch growing upwards symbolizing the life that Nazareth brings to the country, as well as three lions with symbolic messaging: a lion and sun symbol which was the symbol of the Iranian flag prior to the Islamic revolution of 1979, a lion with a woman holding a sword to honor the fact this movement in Iran is woman-led, and the lion of Judah to symbolize Israeli solidarity with the people of Iran.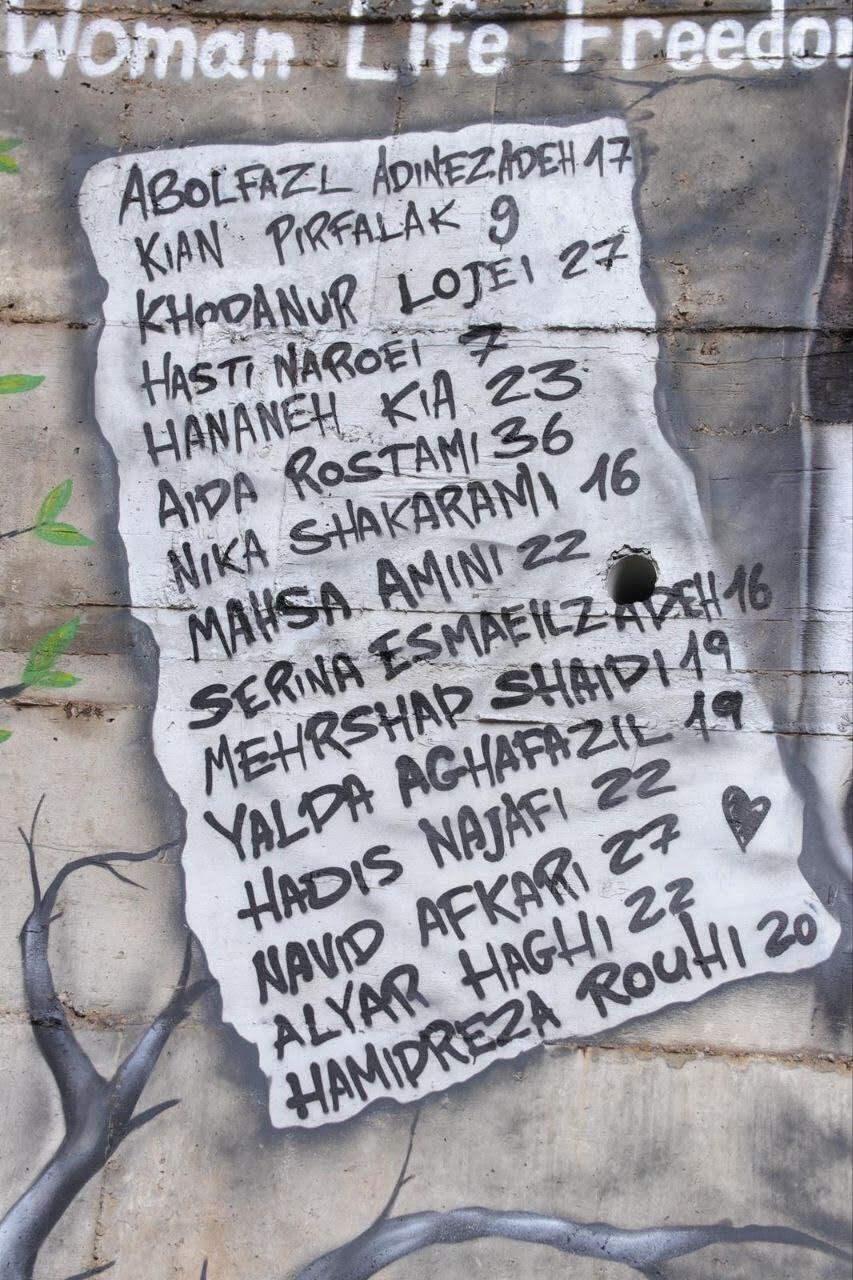 Brofman, who also painted a mural in London two months ago in support of the Iranian people, was initially contacted by Khalili and was immediately sold on the idea. "I knew this new mural was a massive undertaking and when I showed Benzi the mockup for what I wanted to do, Benzi said, 'I must do this mural, it is perfect for me.' At that moment I knew Benzi was the one," said Khalili.
At the unveiling event, speeches were made by Hooman Khalili, social activist Yoseph Haddad, former MK and co-chair of the Pro Abraham Accords' Parliamentary Caucus Ruth Wasserman-Lande, and journalist and activist Emily Schrader, who helped organize the mural project as well as the protest for the people of Iran in Tel Aviv.
Khalili, who opened by thanking the Mayor of Nazareth Ali Salam for his cooperation on the project, emphasized how Arabs and Jews across Israel have come together in support of the people of Iran, and praised the people of Nazareth adding, "I know today that if one of these women, [if] one of these people from Iran, ran to Israel for refuge, the people of Nazareth would welcome them "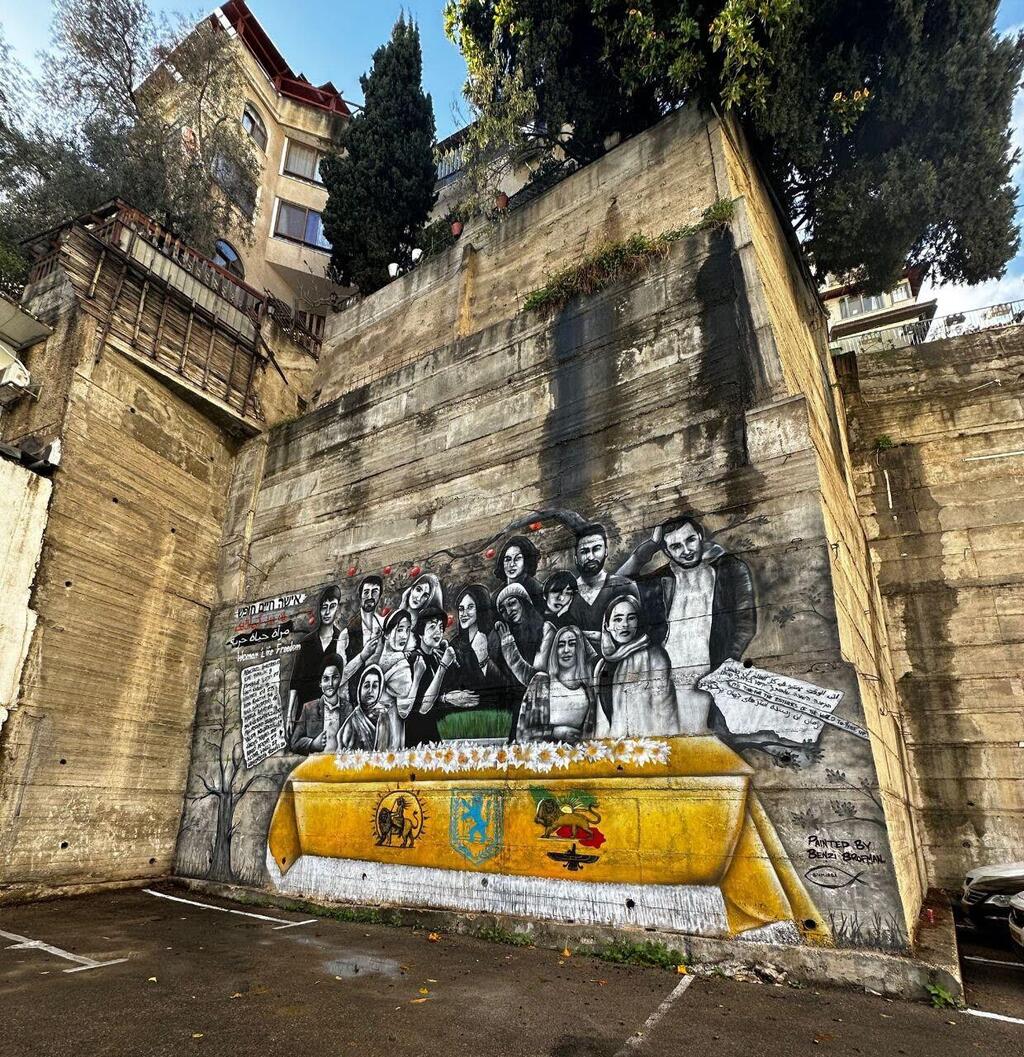 Speaking in both Hebrew and Arabic, Haddad stated, "I'm proud that Nazareth, the largest Arab city in Israel, joined other cities in Israel in support of the Iranian people against the Islamic Republic. It doesn't matter if you are Jewish, Christian, or Muslim or Druze, we are all human beings and we all stand with the Iranian people."
Wasserman-Lande echoed the sentiment in her speech pointing out that the mural of solidarity was painted by an Israeli Jew at a location owned by an Israeli Muslim, at a site run by an Israeli Christian, in a beautiful example of Israeli unity across religions and cultures.
Wasserman-Lande added in a comment to Ynet: "It is our moral and human duty, and a personal honor for me, to be able to cry out the pain of any woman throughout the world who fights for her and her sisters' freedom. I am also extremely proud that Israel is currently the only country in the region which has gladly embraced this wonderful initiative of portraying the pain of Iranian women and their quest for freedom. We are all God's children and humanism must unite us."
Emily Schrader helped organize the event. The mural can be seen at Paulus ha-Shishi St 87-93 in Nazareth, Israel.