Israel and Kosovo's foreign ministers signed a historic agreement to establish diplomatic relations in a virtual ceremony on Monday.
Kosovo and Israel agreed on mutual recognition last September at a summit of Kosovo-Serbia leaders at the White House in the presence of then-President Donald Trump.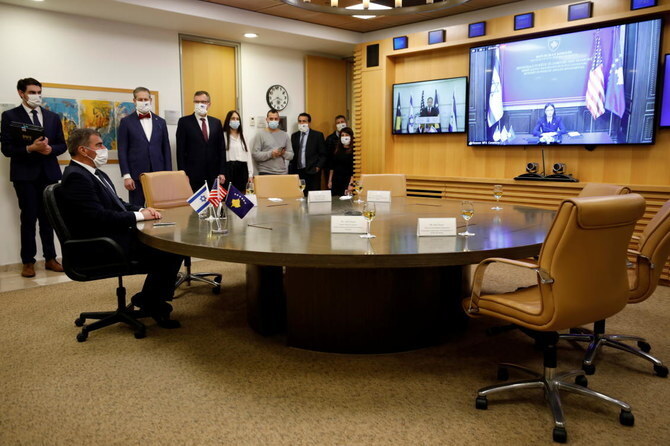 Pristina agreed to open its embassy in Jerusalem, making it only the third country to open a diplomatic mission in the capital, after the United States and Guatemala, and the first Muslim-majority country to do so.
Serbia also announced it would move to move its embassy in Israel to Jerusalem, a promise it has yet to follow through on.
Most countries conducting diplomatic relations with Israel set their embassies in Tel Aviv as opposed to Jerusalem to avoid criticism by the Palestinians, who seek the east part of the city as the capital of a future state.
Foreign Minister Gabi Ashkenazi and his Kosovar counterpart Meliza Haradinaj-Stublla agreed to hold the ceremony virtually due to travel restrictions meant to rein in the spread of COVID-19, including the closure of Ben Gurion Airport.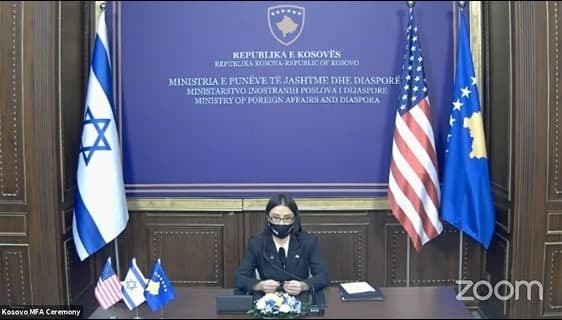 This was the first time two countries officially established diplomatic ties remotely.
Kosovar Prime Minister Avdullah Hoti and U.S. State Department representative to the Balkan region, Matthew Palmer, also joined the ceremony.
"Today, we are making history. We are establishing diplomatic relations between Israel and Kosovo - a moment that many have been waiting for," Ashkenazi said at the ceremony.
"This is an opportunity to strengthen the relationship with the Kosovar people, who themselves hold warm ties with Israel," he added.
Ashkenazi also thanked the U.S. for its part in promoting the agreement.
Haradinaj-Stublla said that Kosovo has waited for a long time to establish ties with Israel, calling the ceremony "an important day on which we celebrate a new chapter for both our countries, who share a common fate."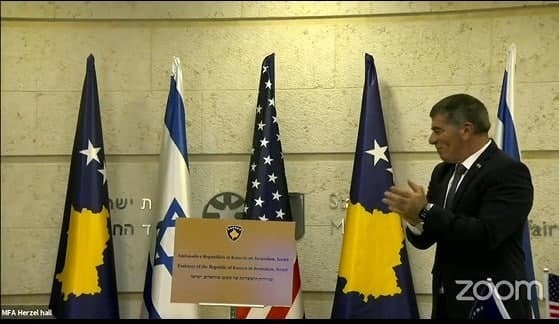 "Today Israel has become the 117th country to recognize Kosovo as an independent and sovereign state," she said.
Haradinaj-Stubll also thanked Israel for offering asylum to some 100 Kosovar refugees who escaped to the country during the 1999 war with Serbia and noted Kosovo's efforts to save Jews from Nazi persecution during World War II.
"Today we are writing a golden page in the history of both our peoples and nations," she said. "We invite Israeli companies to come and invest in Kosovo, and we are expecting many years of friendship. Shalom and Toda Raba [Greeetings and thank you in Hebrew]."
After both diplomats concluded their statements, Ashkenazi unveiled a plaque that will be placed at the entrance of the future Kosovar embassy in Jerusalem, which will be on display at the Foreign Ministry until the mission's official opening in July.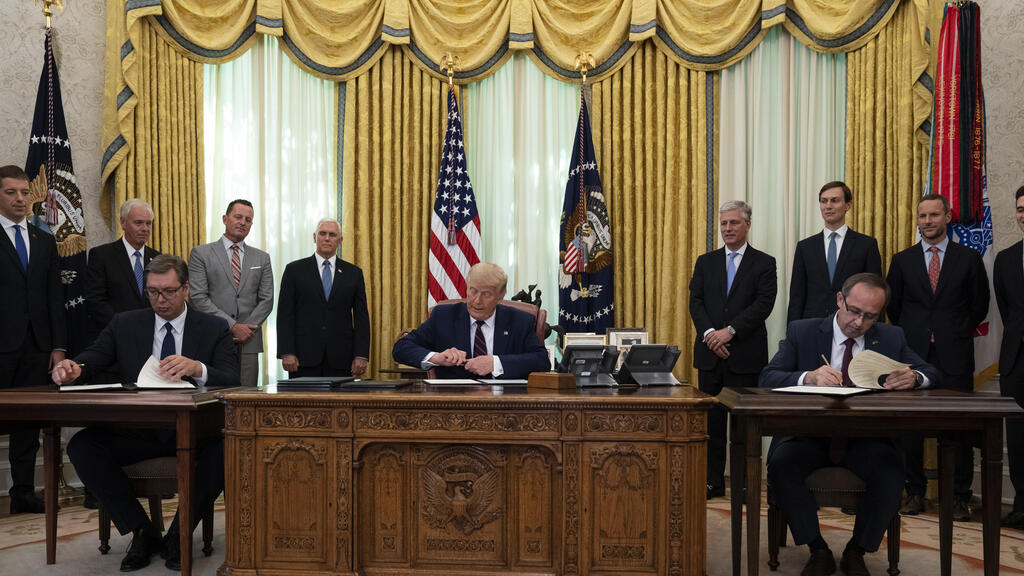 Kosovo, with a population of 1.9 million, has declared its independence from Serbia in 2008 unilaterally. It has received recognition from most Western countries but was never accepted into the United Nations due to Russia — a close Serbia ally — vetoing its membership.
Kosovo had not recognized Israel before since it had not recognized the Balkan state, either. Jerusalem's refusal to recognize Kosovo stemmed from fear it could create a dangerous precedent followed by the Palestinians.