The coronavirus crisis in the United States has started to affect the local Jewish community that finds itself on the tail end of anti-Semitic attacks. A newly-emerged video shows an ultra-Orthodox Jew being refused service at a car dealership in New York due to the Jewish community "spreading" the disease.
The video, posted by the StopAntisemites organization, shows an employee at a Toyota dealership in the upstate town of Goshen telling the Haredi customer to leave because the "Jews spread the virus."
"I have an appointment, why do you not accept me? I just want to understand why all the guys can have service and you won't accept me," the Jewish man is heard in the video telling the mechanic.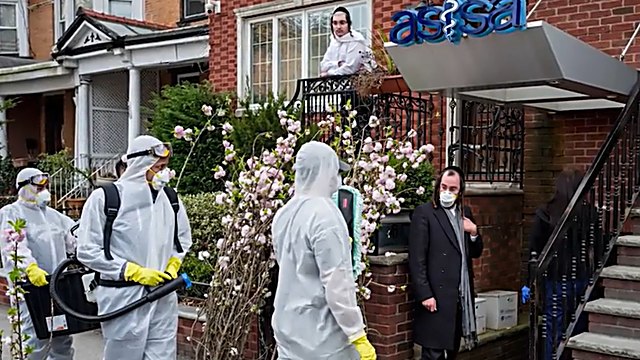 New York health officials expressed growing alarm that the coronavirus is spreading quickly in tightly knit Hasidic Jewish communities in Brooklyn, saying that they are investigating a spike in confirmed cases.
More than 100 people have recently tested positive for the coronavirus in Borough Park and Williamsburg, two Brooklyn neighborhoods with sizable Hasidic Jewish populations - all of them tested at two urgent care centers that have been crowded with anxious patients, according to an urgent care center employee.
The video is a sign of a frighteningly growing trend in the U.S. of people linking the COVID-19 epidemic to Jews.
According to an ABC News report, racist extremist groups, including neo-Nazis and other white supremacists, are encouraging members who contract novel coronavirus disease to spread the contagion to cops and Jews, according to intelligence gathered by the FBI.
In an alert obtained by ABC News, the FBI's New York office reports that "members of extremist groups are encouraging one another to spread the virus, if contracted, through bodily fluids and personal interactions."
"Anti-government folks in America love to target law enforcement as a symbol of America's authority," said Don Mihalek, the executive vice president of the Federal Law Enforcement Officers Association Foundation and an ABC News contributor. "It's just sad that's their focus at a time of crisis in the nation."
Organizations that monitor the internet for white supremacist activity have reported to witnessing conversations that blame Jews and Jewish leaders for both the coronavirus and the global response, including the shutdown of all but essential government functions in places like New York, New Jersey and California.
"From pushing the idea that Jews created the coronavirus virus to sell vaccines to encouraging infected followers to try to spread the illness to the Jewish community and law enforcement, as the coronavirus has spread, we have observed how white-supremacists, neo-Nazis and others have used this to drive their own conspiracy theories, spread disinformation and incite violence on their online platforms," said Michael Masters, the head of Secure Communities Network, an umbrella group that coordinates security for Jewish organizations and synagogues around the country.