Holocaust denier and white nationalist Nicholas Fuentes was spotted at Mara Lago on Tuesday,
the Daily Beast
reported. Fuentes was seen with Kanye West at the Miami airport earlier this week, as the rapper was on his way to dine with the former president.
Fuentes, a far-right activist, was banned from YouTube in 2020, where he had been hosting a live stream show, espousing his views on preserving white, European-American identity and culture and had announced that he does not see Jews as Europeans or part of Western Civilization, "particularly because they are not Christians."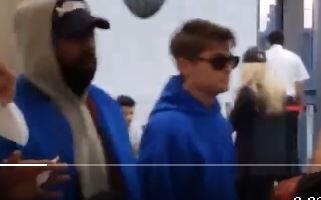 He and his followers had angrily objected to the Trump administration's embrace of Israel, according to the
Anti-Defamation League.
West, who had come under fire for his antisemitic rants, was banned from Twitter but quickly reinstated by new owner Elon Musk.
West had recently announced he would be joining the presidential race in 2024 and posted a video clip, with another far-right activist, provocateur and former Breitbart editor Milo Yiannopoulos whom he said would be advising him in his campaign.
After dining with the former president, the rapper asked his followers to guess what Trump had said when asked by West if he'd be his 2024 running mate, the Daily Beast reported.
Trump himself had not replied to the Daily Beasts request for comment on the get together.