Nine years ago he helped his wife deliver their baby in a car. On Sunday morning he was seriously injured in a terror shooting attack in which his two daughters were also injured – including the one whom he was photographed carrying in his arms after delivering her in the car.
Elrai Kapah, a 37-year-old resident of Nokodim, is the Israeli who was seriously injured Sunday in the shooting attack near the Tekoa junction in the Etzion Bloc of the West Bank.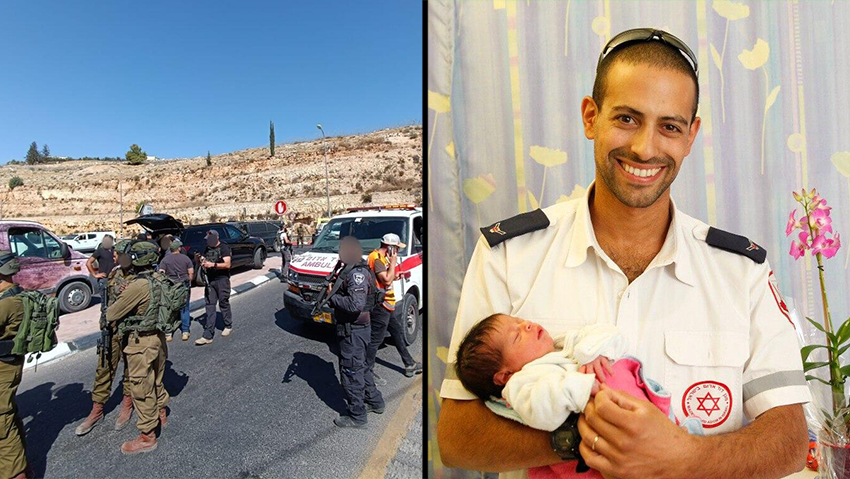 His two daughters, who were with him in the car, were also injured in the attack - Avigail, 14, and Rachel, 9, who was documented in Yediot Ahronoth as a baby after she was born in the car, while Kapah was in an ambulance driver course.
His wife Tamar's parents are the late Dov and Rachel Kol, who were murdered in a shooting attack in 2005 in Gush Katif.
The report of a gunshot wound was received at the Magen David Adom center in the Jerusalem area at 8:46 a.m. MDA medics and paramedics began providing medical treatment at the scene.
According to the initial investigation, several terrorists arrived in the area of the intersection in a vehicle, and at least one of them got out of it and opened fire. Israeli security forces are using security camera footage and other methods to track down the terrorists, trying to stop them before they escape to one of the nearby villages or nearby Hebron.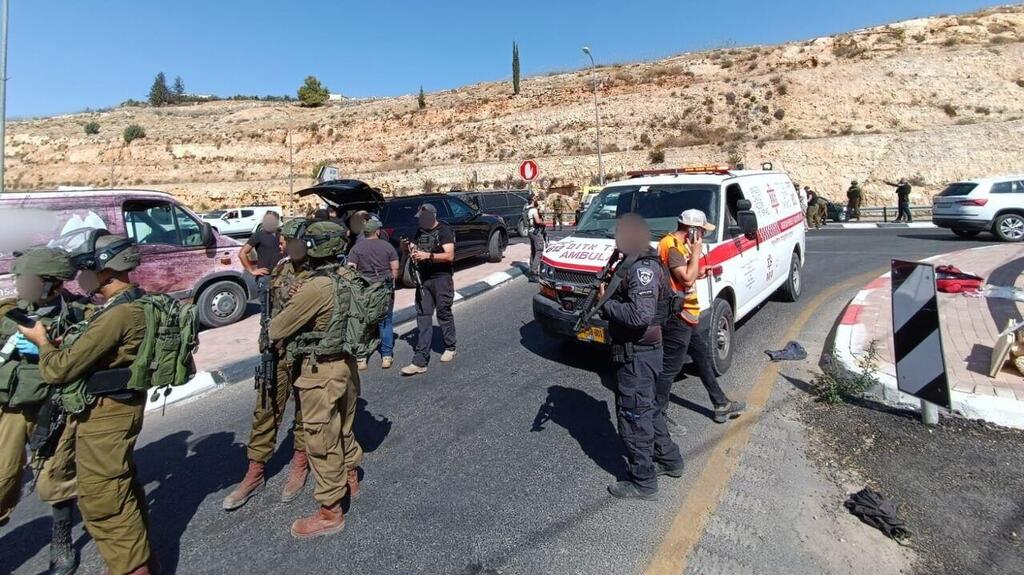 The Efrat local council called on residents to avoid coming to the area of the attack due to the roadblocks set up there.
"Following the shooting attack that took place at the stuck intersection, many roads on the eastern side of Gush Etzion are blocked. The Efrat South intersection is blocked to those coming from the east and there is congestion going west. The Gush intersection is blocked in all directions. Please avoid coming to the area," the council said in a statement.
Gush Etzion Regional Council head Shlomo Naaman said that this is an area where there have been no attacks for many years. "Terrible morning with difficult news. We wish a speedy recovery to the injured and strengthen the security forces that will quickly reach the terrorists and settle accounts with them. We do not surrender to terrorism that tries to shed Jewish blood and expel us from our country," said Naaman.
Hamas praised the attack. "The resistance in the West Bank is expanding in response to the crimes against our people and the holy places, and every time it can surprise the occupation in the place and the method of execution. The resistance will continue until the goals of our people are achieved," Hamas spokesman Hazem Qasem said following the attack.
First published: 09:47, 07.16.23